Alex Ruiz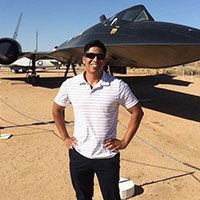 Instrumentation Engineer
Engineering Physics, '16
Getting to understand who God is has given me a desire to seek Him more.
How did your program at Biola prepare you for your career?
Biola prepared me for my time at Cal Poly Pomona while I was pursuing an aerospace engineering degree. All my class projects involved programming with MATLAB. Luckily for me, during my time at Biola Dr. Silzel was my MATLAB professor so I was ahead of the curve when it came to programming. Everyone would come to me for advice which further cemented my MATLAB knowledge.
Before I started at Edwards AFB, my boss called me and asked why I decided to go to Biola. Little did I know that he was also a Christian and once I found out, we talked about theology and loving Jesus. All glory to God!
What did you appreciate most about your time at Biola?
Getting to know God. I had very little knowledge when it came to theology. Biola helped me understand why I believe what I believe.
The next big thing was the friendships I developed. There are friendships I developed that will last a lifetime. This reminds me of Proverbs 18:24, "A man of many companions may come to ruin, but there is a friend who sticks closer than a brother." I am blessed to have met four guys that fit this verse.
How did Biola equip you to be a more faithful follower of Jesus Christ?
Being surrounded by Christians, taking Bible classes, and having theological conversations helped in my walk with Jesus. Getting to understand who God is has given me a desire to seek Him more. As I seek Him more, the easier it is to share His good news.
There were roadblocks in my life that made me realize that if I truly accept the Bible as truth, then my mentality and actions must be different than that of the world.
What advice would you give to students considering your degree program?
Perseverance is key. This major is not easy and it was never intended to be. If this truly your goal, then keep pushing. If you are struggling, then make some changes in your life (study habits, diet, who you spend time with, etc.) Your professors are there to help. I wished I would have gone to their office hours but I was too proud. Understand the concept behind each equation. If I can do it so can you!