B.S. in Environmental Science
School of Science, Technology and Health
Overview
At Biola, environmental science is an interdisciplinary field, focusing on solving problems involving people and the rest of God's creation. The environmental science program provides the platform to specialize in graduate programs involving marine and terrestrial flora and fauna, environmental policy, planning, and regulation, management of state and federal lands, and pollution control and waste management. That scientific platform can also be used by those passionate about helping people through sustainable development, environmental missions, organic agriculture and environmental education.
Why Choose Environmental Science at Biola?
In addition to its strong curriculum, expert faculty members and biblical integration, Biola's environmental science program offers several key advantages:
We are a small major with small class sizes. Upper division classes have fewer than 10 students. You will be mentored by faculty academically, vocationally and personally.
Professors have held jobs and done research in the field of environmental science and are committed to care for God's creation. They teach current information supported by recent experience in the United States, Cuba, Belize, Panama and India. The director is a leader in the evangelical environmental community.
All classes include a biblical rationale for caring for all of God's creation and involve a practical, hands-on experience to apply what is learned in the classroom to the real world.
Our program was designed with our close partner, the Au Sable Institute, to offer off-campus field classes and research in Michigan, Washington, Costa Rica and India.
We experience God's local creation first hand via field trips; some are camping weekends. Our field site, within one to two hours, includes three 10,000-ft. plus mountains, two different deserts, eight coastal islands and one Pacific Ocean.
You will have something other missions applicants often will not have: a strong science background. Serious environmental problems are common in the developing world and mission agencies are now connecting the good news of environmental solutions with the Good News.
There are many opportunities for students to care for God's creation at Biola: Creation Stewardship Week (like Earth Day), restoring native vegetation on the banks of La Mirada Creek that flows along our campus, end-of-year move out recycling, work in the Organic Garden, and campaigns for organic fair-trade coffee, more and better recycling, and post-consumer paper use.
What Will I Study?
Biola's environmental science major is structured to develop your competence in problem-solving, critical thinking and writing. A biblical rationale for creation care runs through all biological science classes. As an environmental science student, course highlights include:
Going on terrestrial field trips to Angeles National Forest, and Channel Islands and Joshua Tree National Parks; marine field trips for whale-watching, tidepools, and aquariums
Using a wide variety of field biology and lab equipment
Developing research projects and creating scientific format papers
Deepening your understanding and exposure to science courses including geology, biology, chemistry, and physics
Exploring your career interests through internships and volunteer opportunities
Advancing your passion for creation care and field work at the Au Sable Institute
Diving into environmental policy and regulation
Applying biblical creation care principles to daily living, the university, the church, and the wider world
It is incredible to be involved in the Biola community.
Chief Development Officer
Environmental Science, B.S. '16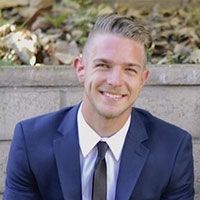 As believers, we need to be on the front lines taking care of the Lord's creation.
CEO and Co-Founder at Harvest Craft
Environmental Science, B.S. '15
4 years
Standard Duration
This indicates the standard duration of this program. Completion time may vary by student depending on background and courseload.
137
Total Program Credits
Total program credits include a combination of major/concentration, Bible/theology and general education credits.
WSCUC
Accreditation
Biola University is accredited by the WASC Senior College and University Commission. Additional accreditations may apply to specific programs.
Career Paths
As a graduate of Biola's environmental science program, you will have the foundation to pursue a specialized career in science that can impact the world for Jesus Christ. You can utilize your degree to care for the earth in any number of professional capacities, including everything from education and research to government and corporate work. Here are just a few examples:
Marine biologist
Wildlife biologist
Environmental health educator
Park Ranger
Renewable energy manager
Environmental air, water, or soil technician
Cartographer (mapmaking)
Green business owner/consultant
Land use planner — city, state, federal
Environmental K-12 science teacher
Environmental lawyer
Missionary
Department of Biological Science
New State-of-the-Art Center for Students
The Alton and Lydia Lim Center for Science, Technology and Health offers students innovative laboratories, cutting edge equipment and research opportunities.


You may also be interested in