For information on Biola University's coronavirus (COVID-19) response and updates, visit
biola.edu/coronavirus
.
B.A. in English
School of Humanities and Social Sciences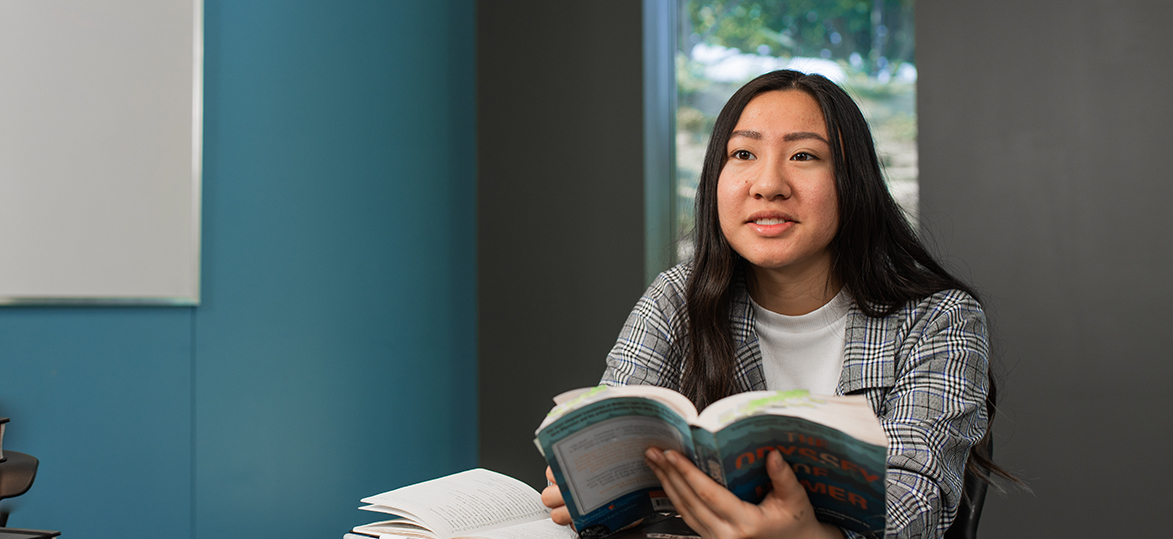 Overview
The English language is a powerful tool. Biola's English major will equip you to wield it with confidence and artistry. Through the program, you'll learn to analyze and appreciate great works of literature while also honing skills in communication, persuasion and creative expression.
Concentrations
Literature

The literature concentration is for those wishing to focus on the study of literature. The literature track requires at least 12 credits in upper-division English courses in addition to the English core requirements.

Secondary Instruction

For those interested in teaching English at the high school level, this concentration provides coursework that, combined with successfully passing the California Subject Examinations for Teachers (CSET), leads to a California Single Subject Teaching Credential in English. The Secondary Instruction concentration consists of 43 credits.

The Professional Teacher Preparation Program leading to a California Teaching Credential at Biola University is subject to change in response to new legislation. Please see a credential analyst in the School of Education for current information on completing the requirements for a teaching credential. Students must consult with both their major advisor and a School of Education advisor.

Writing

The writing concentration is for those seeking to supplement their study of literature with theoretical and vocational training in writing.
Why Choose English at Biola?
In addition to its strong curriculum, expert faculty members and biblical integration, Biola's English program offers several key advantages:
Small, seminar-style classes give you an opportunity to form deep relationships with your professors and fellow students.
You have an opportunity to publish your work in The Inkslinger, Biola's student-run creative writing journal, published each semester.
English majors can participate in The English Guild — Biola's chapter of Sigma Tau Delta, the National English Honors Association — which hosts conferences and social events.
Biola's location in Southern California — one of the world's largest and most diverse metropolitan areas — is ideal for internships and job opportunities.
What Will I Study?
As an English major, you will focus on developing your ability to speak and write with clarity and on understanding the uses of language as a means of interpretation, persuasion and critical thinking from a Christian perspective. Some topics and course highlights include:
Creative writing in poetry and fiction
British Romanticism and Renaissance literature
Race and ethnicity in American literature
Overview of 20th and 21st century literary theory
Major approaches in critical theory
Shakespeare's plays
British eras and movements in literature
Theories of writing and rhetorical models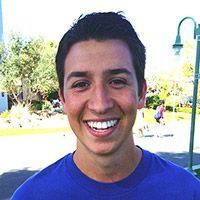 I love studying English at Biola because it has given me the opportunity to engage in meaningful conversations about literature from a Christian perspective.
Jonathan Blea
English, B.A. '16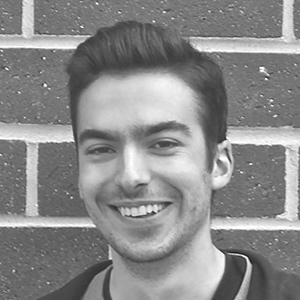 I really appreciated the opportunities to just read so many full books and primary texts, and the scholarly rigor with which the professors and many of my fellow students thought about and discussed what we studied.
English, B.A. '15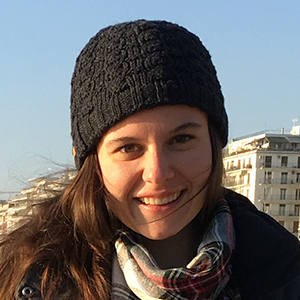 I love that, because of the small class size, we are able to have such personalized attention both in the classroom and outside of the classroom. The small class size allows for collaborative and formative discussions, and my writing has greatly improved from individual advice from professors.
Sophia Panayiotou
English, B.A. '16
4 years
Standard Duration
This indicates the standard duration of this program. Completion time may vary by student depending on background and courseload.
126
Total Program Credits
Total program credits include a combination of major/concentration, Bible/theology and general education credits.
WSCUC
Accreditation
Biola University is accredited by the WASC Senior College and University Commission. Additional accreditations may apply to specific programs.
Career Paths
A degree in English provides exceptional preparation for careers in communication fields such as journalism, education, media and techonology. As a well-equipped professional, you can expect to impact the world for Jesus Christ in rewarding professions such as:
Author/editor
Journalist
Publisher
Web content manager
Researcher
Director of public relations
Curriculum developer
Educator
Grant or technical writer
Communications manager
What are Graduates Doing Now?
Many of Biola's english studies graduates continue their education, while others move directly into careers. Professional highlights include:
Entrepreneurial company manager
Theatre consultant
University professor
Corporate consultant
Writer
Teacher
Magazine editor
Doctoral candidate
Graduate studies at prestigious schools such as: University of Notre Dame; Louisiana State University; California State University Long Beach; Talbot School of Theology; Baylor University; Georgetown University; Boston College; University of Washington; University of Southern California; University of California Irvine; University of California, Riverside; Shakespeare Institute at Stratford-Upon-Avon; University of Birmingham; University of Connecticut; and Claremont Graduate School
You may also be interested in