B.A. in English
School of Humanities and Social Sciences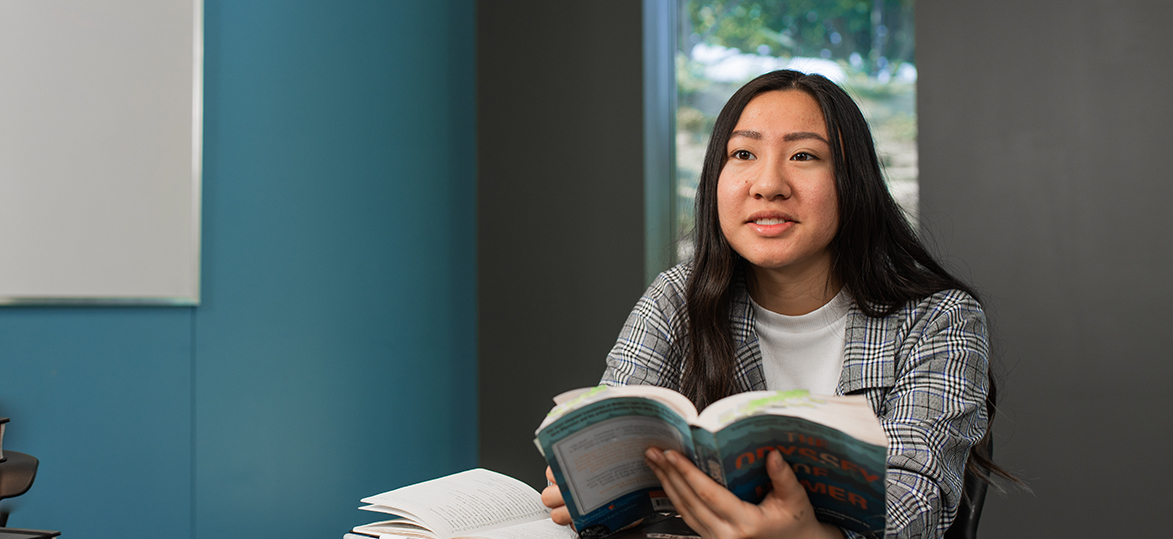 Overview
As an English major at Biola, you'll join a community of students and faculty dedicated to the pursuit of nuanced thought, careful reading and creative, persuasive writing. The English department engages in community, together, by practicing the power of language and story. When you graduate, you'll be equipped to pursue and embody the greatest story — the gospel — in your home, city, church and career.
Yes! Tell Me More!
Concentrations
Literature

Students in our literature concentration spend four years reading and analyzing the world's greatest works of literature alongside a robust education in biblical studies. If you've ever daydreamed about spending semesters with Jane Austen or James Baldwin, or find your interest piqued by course titles like "The Rose and the Sword: Legends of King Arthur," "The Victorian Novel," or "Modernism and Masculinity," this is your concentration.

Secondary Instruction

If you aspire to teach junior high or high school English, you can pursue a California Single Subject Teaching Credential in our English secondary education concentration. You'll practice literary analysis and discussion with English department professors, gain over 100 hours of practicum and student teaching experience, and learn to integrate biblical virtues into pedagogical practice. Course titles include "Methods of Teaching Linguistically Diverse Students," "Studies in Grammar and Language," and "Introduction to Critical Theory."

Writing

Our writing concentration blends literary study with rigorous instruction in the artistic and vocational aspects of a writing life. You'll receive professional training and develop personal writing practices in fiction, nonfiction, poetry, and technical and digital communications. You will be challenged to engage secular and sacred themes with artistic excellence, curiosity and biblical integrity. Our students' favorite courses include "Writing the Novel," "Literary Journalism," and "Vision, Voice, & Practice" (an interdisciplinary course in art and creative writing).
Why Choose English at Biola?
The English department is committed to preparing you for excellence in your post-graduation endeavors, wherever they may take you.
In small, rigorous class settings, you'll think deeply about complex texts, practice communication skills and grow in empathy by engaging with stories and poems from all over the world. Your heart, soul and vocation will be indelibly marked by a Christian ethic anchored in Christ's command to love God and neighbor.
You'll gain skills highly sought after by employers, like critical thinking, communication, creativity, ethical awareness, empathy, and the ability to write with elegance and style. Our alumni have gone on to success in a variety of careers, from teaching and academia to law, marketing and podcast production.

Flourish in Small Classrooms: You'll engage in thought-provoking discussions and meaningful relationships — all in classrooms that never exceed 22 students. Biola English professors hold advanced degrees from top universities, but the excellence they cultivate isn't just academic. They're committed to you — helping you discern who you are, what you love, and how your English degree will build a strong foundation for your career and vocation.
Practice Biblical Integration: Our professors foster biblically informed conversations that consider the Holy Spirit's role in creativity, the image of God expressed in human diversity, and the role of empathy in loving your neighbor. You'll seek to glorify God in the creative process, written and verbal communication, civic engagement and professional life.
Pursue Professional Experience: Gain teaching, tutoring and editing experience as a Rhetoric & Writing Center consultant, or by being a TA for a first-year writing course. Pursue academic professionalism and honors in The Guild of English Scholars, our Sigma Tau Delta chapter. Or visit the Career Center to seek internships, review your resume or brainstorm for your future career.
Gain Editorial and Publishing Experience: The Inkslinger is the English department's student-run literary journal. It features creative writing and artwork submitted by students and alumni. As an English major, you can join the editorial board or submit work to be published. You can also write or edit for other on-campus projects like The Point, The Chimes, Grit, and KBR: The Torch (Biola's student-run radio station).
Seek Adventure in Off-Campus Study: Students can explore countries like Uganda, Australia, Jordan and Japan through one of Biola's study abroad opportunities. Our English majors' favorites include Biola Shakespeare (which takes place at the Oregon Shakespeare Festival), a journalism program in New York City, the rigorous Scholars' Semester in Oxford, and Biola London.
Thrive in Community: We annually commemorate student accomplishments at our end-of-year Senior Banquet, the campus-wide Celebration of Student Writing, and Zeitgeist, our undergraduate academic conference. You'll have opportunities to network with alumni in fields as diverse as teaching, law, marketing and podcasting at our yearly Career Conversations. You can also look forward to fun traditions like our Christmas Party (complete with a white elephant book exchange), the Inkslinger launch party, and more!
We Prepare You for What's Next: Your English professors are committed to equipping you for your dream career, engaging in conversation to imagine what you'd like to do and training you in the skills that will help you get there — such as critical thinking, teamwork, empathy and the ability to communicate with clarity. When you graduate, you'll join an alumni network of thoughtful, compassionate professionals who embody the gospel everywhere they go.
What Will I Study?
As an English major at Biola, you will think deeply in a community of empathetic, creative, intellectually rigorous believers. The skills our professors will teach you — among them persuasive communication, teamwork, and clear, stylish writing — will help you excel in the classroom and in your post-graduate career pursuits. English department course highlights include:
Best practices in writing poetry, novels, and short stories
Works by great American writers — such as Frederick Douglass, John Steinbeck, Emily Dickinson, and Toni Morrison
Rhetorical and theoretical studies in grammar and language
Major developments in theories of society, politics, religion, science, and ethics, and their application to the study of literature
Shakespeare — his plays, performances of his plays, and his relevance to today
Developments in Arthurian legend from the 14th century to the present
Coming of age novels from around the world
The historical and cultural contexts, satire, realism, and legacy of Jane Austen's novels
Classics of American Modernism — The Great Gatsby, The Sound and the Fury, The Sun Also Rises, and more
Storytelling and narrative theory in Victorian novels
4 years
Standard Duration
This indicates the standard duration of this program. Completion time may vary depending on transferred coursework and preferred courseload.
120–122
Total Program Credits
Total program credits include a combination of major/concentration, Bible/theology and general education credits.
WSCUC
Accreditation
Biola University is accredited by the WASC Senior College and University Commission. Additional accreditations may apply to specific programs.
Career Paths
English department alumni work in a wide variety of careers. They excel wherever they go — whether that be advanced graduate study, corporate marketing work, podcast production, full-time ministry, or even the medical field. Positions held by English department alumni include:
Senior Brand Manager
Lawyer
Podcast Producer
Librarian
Comedy Writer
Content Manager
Ghostwriter
Community Organizer
Human Resources Coordinator
Vice President of Marketing
Theater Consultant
University Professor
Corporate Consultant
Freelance Writer
Copyeditor
Copywriter
High School Teacher
Magazine Editor
In addition, some of our students have gone on to advanced graduate studies in English. Institutions they have attended include University of Southern California; University of California, Irvine; University of Oxford; Georgetown University; Boston University; Boston College; the Shakespeare Institute at Stratford-Upon-Avon; University of St. Andrew's; University of Connecticut; and Claremont Graduate School.
You may also be interested in