Chiropractor
Chiropractic medicine is based on the human body's ability to heal itself without the use of drugs or surgery. It focuses on the relationship between the body's structure (primarily the vertebral column and spine) and function (as coordinated by the nervous system) and how that relationship affects the preservation and restoration of health. The chiropractic approach to healthcare is holistic, stressing the patient's overall health and wellness. It recognizes that many factors impact a patient's health, including exercise, diet, rest, environment, and genetics. Chiropractic doctors are most well known for the different hands-on techniques they employ to adjust misalignments in the patient's skeletal system, particularly focusing on the back.
A career as a chiropractor offers real personal satisfaction and rewarding income. In addition, doctors of chiropractic are usually their own managers, establishing their own hours and work habits. Chiropractors enjoy the advantages of a profession that is well established: one that is recognized for its service to others, does not limit a person in opportunity, income or challenge, yet offers opportunities of security and community leadership.
Biola offers an excellent educational foundation, and individualized advising/preparation, for any student interested in becoming a Doctor of Chiropractic (D.C. degree). Biola has a unique 3 + 3 cooperative degree program in conjunction with the Southern California University of Health Sciences in Whittier, CA (just 3 miles from the Biola campus). Students come in and attend Biola for 3 years taking courses in biology, chemistry, physics, biblical studies and the liberal arts. The specific major in the Dept. of Biological Sciences is the Health Sciences major with a Pre-Chiropractic emphasis.
If a student maintains at least a 2.5 GPA within the framework of the Pre-Chiropractic emphasis, and meets some other admission criteria, then after 3 years they are eligible for direct admission into the Los Angeles College of Chiropractic (LACC) campus of the Southern California University of Health Sciences (SCU). LACC is a highly respected Chiropractic school that has been training students since 1911. It is accredited by both the Western Association of Schools and Colleges and the Council on Chiropractic Education. The exceptional clinical education experience at LACC focuses on service learning, where the chiropractic students work together to help their patients solve complex health concerns and work toward optimization of health and wellness. After successfully completing 3 years at Biola, students spend an additional 10 trimesters at LACC within the chiropractic curriculum.
Upon successful completion of all phases of the program, a student will receive both the B.S. degree from Biola University and the Doctor of Chiropractic (D.C.) degree from SCU. To become licensed as a practicing chiropractor, the student will need to pass the clinical examinations at the end of the training process. There are numerous advantages to the Biola/LACC cooperative degree program. First, it shaves a year of time and expense from the traditional undergraduate degree timeline. Students are already taking courses at the Los Angeles College of Chiropractic after only three years of undergraduate studies at Biola. Second, Biola students that demonstrate good academic performance and meet admissions criteria are given priority status in the admission process to a respected chiropractic college like LACC. Finally, and most importantly, science instruction and teaching at Biola is always implemented in the context of the sovereignty of God, and as a tool to further explore and appreciate His creation. A distinctive of the pre-chiropractic program at Biola University is that it offers excellent preparation for chiropractic school as an integrated part of the much larger on-campus Christian community.
Throughout the educational process, every pre-chiropractic student has access to personal advising from BOHPA, the Biola Office of Health Professions Advising. Specifically, every pre-chiropractic student has the opportunity for multiple advising appointments with the chief advisor (himself a graduate of UCLA med), as well as other faculty within the Biological Sciences Dept. that have direct experience with the chiropractic program.
Every pre-chiropractic student is eligible to enroll in the upper division clinical shadowing program (BIOS460) at Biola University. This semester-long experience during the third year provides weekly or semi-monthly opportunities to observe and interact directly with a chiropractor seeing patients in clinical practice. Clinical shadowing allows students to explore the chiropractic medicine field, gain foundational clinical experience, provide sources for letters of recommendation, and make decisions about future career paths.
Biola has a wonderful peer-to-peer community for pre-health students in the Health Careers Club (HCC). The HCC provides opportunities for like-minded students to gather, fellowship, learn, and share the pre-health career journey together. Student officers of the HCC plan monthly activities and presentations directly related to the medical field. Speakers from various specialties are brought in to discuss their clinical work and topics in their field. Christian professionals and sponsoring missions organizations are also scheduled for students interested in short-term and long-term missions. Unlike some of the larger state schools, the Health Careers Club at Biola University ensures that no student has to undertake the challenging pre-health career journey alone.
The Biola undergraduate experience provides an excellent context in which to prepare a more thoroughly educated Doctor of Chiropractic whose faith is truly integrated with his or her profession. Come explore why Biola is the best (and quickest) path to your chiropractic career!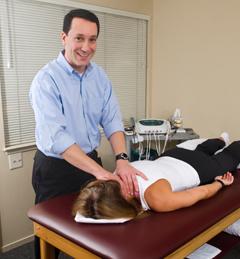 Recommended Majors
The Biola major recommended (and ideally suited) for pre-chiropractor students is:
Distinctives
Additional Career Info
To learn more about a career as a chiropractor, click on the "Chiropractic Medicine" tab at www.explorehealthcareers.org