Pharmacist
Pharmacists are health professionals who practice the art and science of pharmacy, which is the dispensing of prescription drugs to individuals. They also advise their patients, as well as physicians and other health providers, on the selection, dosages, interactions, and side effects of medications. Pharmacists monitor the health and progress of patients to ensure the safe and effective use of medication.
Pharmacists work in a variety of clinical environments. Some pharmacists work in a community setting, such as a retail drugstore, where they dispense medications and counsel patients on the use of prescription and over-the-counter medications. They also advise patients about general health topics such as diet, exercise, and stress management, and provide information on products such as durable medical equipment or home health care supplies. Some community pharmacists provide specialized services to help patients with conditions such as diabetes, asthma, and high blood pressure; while others participate in smoking cessation interventions and vaccinations.
Other pharmacists work in hospitals, and other healthcare facilities, dispensing medications to inpatients and advising the medical staff on the selection and effects of drugs. In this role, these clinical pharmacists participate in disease state management, where they optimize and monitor drug therapy or interpret medical laboratory results – in collaboration with physicians and/or other health professionals. Typical responsibilities include making sterile drug solutions to be administered intravenously, and planning, monitoring and evaluation of drug programs and regimens. Some clinical pharmacists go on to specialize in specific drug therapy areas, such as intravenous nutrition support, oncology (cancer), nuclear pharmacy (used for chemotherapy), geriatric pharmacy, and psychiatric pharmacy (the use of drugs to treat mental disease).
Finally, increasing numbers of pharmacists are expanding into non-traditional roles. Some are working as research scientists for pharmaceutical manufacturers, developing new drugs and testing their effects. Others are involved in home health, where they oversee the preparation of infusions — solutions that are injected into patients — and other medications for use in the home.
Biola offers an excellent educational foundation, and individualized advising/preparation, for any student interested in becoming a pharmacist. The two Biola majors most suited for students interested in a future career in the pharmacy field are the:
Biochemistry (BS) major, and the
Biological Sciences (BS) major
Either major will provide an excellent foundation for a future career as a pharmacist, in any work environment. Regardless of which major/pathway, Biola's excellent science curricula and faculty equip each student with the knowledge base necessary for a future career in the health field. This is evidenced by the fact that most Biola graduates from the Sciences score significantly above the national average on graduate school admissions tests. Furthermore, since some of the pharmacy graduate schools (conferring the pharmacist Pharm.D degree) require PCAT or GRE admission test scores prior to application, Biola has contracted with one of the leading (national) professional test prep companies to offer review courses (conveniently) on the Biola campus.
Science instruction and teaching at Biola is always implemented in the context of the sovereignty of God, and as a tool to further explore and appreciate His creation. A distinctive of the pre-pharmacy program at Biola University is that it offers excellent preparation for pharmacy school as an integrated part of the much larger on-campus Christian community.
Every pre-pharmacy student has access to personal advising from BOHPA, the Biola Office of Health Professions Advising. Specifically, every pre-pharmacy student has the opportunity for multiple advising appointments with the chief advisor (an MD degree graduate from the UCLA school of medicine) who has direct experience with the pharmacy field.
In recent years, Biola University has had success in the number of graduating seniors gaining admission to respected pharmacy school graduate programs both locally and around the country. These students are either currently enrolled in, or have recently graduated from, pharmacy training programs that offer the Pharm.D (Doctor of Pharmacy) degree.
Since many of these graduate programs want to see sufficient pharmacy experience/exposure from potential applicants prior to admission, every pre-pharmacy Biola student is eligible to enroll in Biola's unique upper division clinical shadowing program (BIOS460). This semester-long experience for juniors and seniors (which can be repeated) provides weekly or semi-monthly opportunities to observe and interact directly with pharmacists in different types of clinical practice. Clinical shadowing allows Biola students to explore the pharmacy field, gain recommended experience/exposure in different clinical settings, provide sources for letters of recommendation, and make decisions about future career paths.
Biola has a wonderful peer-to-peer community for pre-health students in the Health Careers Club (HCC). The HCC provides opportunities for like-minded students to gather, fellowship, learn, and share the pre-health career journey together. Student officers of the HCC plan monthly activities and presentations directly related to the medical field. Speakers from various specialties are brought in to discuss their clinical work and topics in their field. Christian professionals and sponsoring missions organizations are also scheduled for students interested in short-term and long-term missions. Unlike some of the larger state schools, the Health Careers Club at Biola University ensures that no student has to undertake the challenging pre-health career journey alone.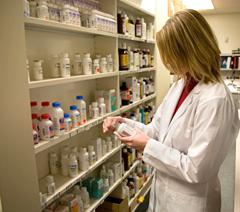 Recommended Majors
The Biola majors recommended (and ideally suited) for pre-pharmacist students are:
Distinctives
Additional Career Info
To learn more about a career as a pharmacist, explore the "Pharmacy" tab at www.explorehealthcareers.org