Physical Therapist
Physical Therapists (PTs) are health professionals that help restore function, improve mobility, relieve pain, and prevent or limit permanent physical disabilities in patients with (primarily) musculoskeletal injuries or disease. Physical therapists provide care for patients in a variety of settings - including hospitals, private practices, outpatient clinics, home health agencies, schools, sports and fitness facilities, work settings, and nursing homes. Physical therapists examine each individual and develop a treatment plan using techniques to promote the ability to move, reduce pain, restore function, and prevent disability. In addition, PTs can also work with individuals to prevent the loss of mobility before it occurs by developing fitness and wellness-oriented programs for healthier and more active lifestyles.
Biola offers an excellent educational foundation, and individualized advising/preparation, for any student interested in becoming a physical therapist. The two Biola majors most suited for students interested in a future career as a physical therapist are the:
Kinesiology major (BS) in the Dept. of Kinesiology and Public Health, and the Health Sciences major (BS) in the Dept. of Biological Sciences.
Either major will provide an excellent foundation for a future physical therapy career. Regardless of which major/pathway, Biola's excellent science curricula and faculty equip each student with the knowledge base necessary for a future career in the health field. This is evidenced by the fact that most Biola graduates from the Sciences score significantly above the national average on graduate school admissions tests. Furthermore, since most of the PT graduate schools require GRE admission test scores prior to application, Biola has contracted with one of the leading (national) professional test prep companies to offer convenient on-campus review courses for the GRE exam.
Science instruction and teaching at Biola is always implemented in the context of the sovereignty of God, and as a tool to further explore and appreciate His creation. A distinctive of the pre-PT program at Biola University is that it offers excellent preparation for PT school as an integrated part of the much larger on-campus Christian community.
At Biola, every pre-PT student has access to several sources of academic and career advising. For Kinesiology majors, professors in the Kinesiology Dept. provide academic advising; while professors in the Biological Sciences Dept. provide academic advising for all Health Sciences majors. For career advising and support for the PT graduate school application process, every pre-PT student has access to personal advising from BOHPA, the Biola Office of Health Professions Advising. Specifically, every pre-PT student has the opportunity for multiple advising appointments with the chief advisor (an MD degree graduate from the UCLA school of medicine) who has direct experience with the physical therapy field.
In recent years, Biola University has had success in the number of graduating seniors gaining admission to respected PT school graduate programs both locally and around the country. Most of these students are enrolled in PT training programs that offer the Doctor of Physical Therapy (DPT) degree, which is in line with current and anticipated trends in the physical therapy field.
All of these graduate PT programs want to see sufficient clinical experience/exposure from every potential applicant prior to admission. Many schools stipulate that they want to see both outpatient and inpatient clinical experiences, either in the hospital or rehabilitation facility setting.
To help students secure some of this required clinical experience, every pre-PT student is eligible to enroll in the upper division clinical shadowing program (BIOS460) at Biola University. This semester-long experience for juniors and seniors provides weekly or semi-monthly opportunities to observe and interact directly with a physical therapist seeing patients in clinical practice. Clinical shadowing allows students to explore the physical therapy field, gain required clinical experience in different clinical settings, provide sources for letters of recommendation, and make decisions about future career paths.
Biola has a wonderful peer-to-peer community for pre-health students in the Health Careers Club (HCC). The HCC provides opportunities for like-minded students to gather, fellowship, learn, and share the pre-health career journey together. Student officers of the HCC plan monthly activities and presentations directly related to the medical field. Speakers from various specialties are brought in to discuss their clinical work and topics in their field. Christian professionals and sponsoring missions organizations are also scheduled for students interested in short-term and long-term missions. Unlike some of the larger state schools, the Health Careers Club at Biola University ensures that no student has to undertake the challenging pre-health career journey alone.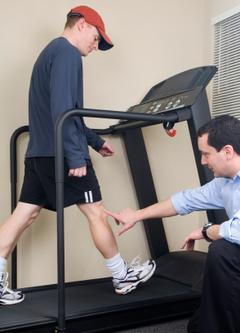 Recommended Majors
The Biola majors recommended (and ideally suited) for pre-physical therapist students are:
Distinctives
Additional Career Info
To learn more about a career as a physical therapist, explore the "Physical Therapy" tab at www.explorehealthcareers.org