Registered Nurse / Advanced Practice Nurse
Many exceptional registered nurses (RNs) and advanced practice nurses working in healthcare today are proud to have received their education from Biola's respected Nursing program. The Biola University Department of Nursing prepares graduates to enter professional nursing with an earned Bachelor of Science in Nursing (BSN) degree. The BSN, with successful passing of the registered nurse NCLEX licensure examination, places the Biola nursing graduate in the top 30% of all California registered nurses. The Biola nurse is prepared to become an excellent nursing professional who integrates Christian caring into their nursing practice. With a solid liberal arts and science foundation, the Biola nurse is prepared for ministry through clinical practice in diverse acute and community settings, locally, nationally, and internationally. Clinical nursing specialties include medical/surgical, critical care, pediatrics, obstetrics, mental health, and public health.
In addition to readiness for the workforce, the Biola BSN nurse is prepared for entry into graduate education. Biola graduates have gone on to various Master of Science in Nursing (MSN) degree programs that prepare nurses for advanced practice roles such as the nurse practitioner, clinical nurse specialist, clinical nurse leader, nurse administrator, certified nurse midwife, certified nurse anesthetist and nurse educator.
The Biola nursing program is approved by the California Board of Registered Nursing and nationally accredited by the Commission on Collegiate Nursing Education. Please see the nursing website (link on the right) for admission criteria, additional information about the program, highlights of the new advanced patient simulator, and the new nursing program video.
If you're interested in a career as a professional nurse, you should definitely consider the many advantages offered by the Nursing major at Biola University!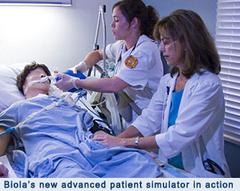 Recommended Majors
Incoming freshmen may apply for entry as pre-nursing students. Secondary application is required for admission into the clinical nursing program during the sophomore year:
Additional Career Info
To learn more about the range of careers within the scope of nursing, explore the "Nursing" tab at www.explorehealthcareers.org