For information on Biola University's coronavirus (COVID-19) response and updates, visit
biola.edu/coronavirus
.
Michael Maffe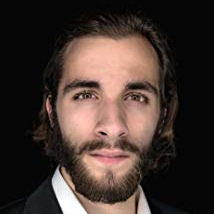 Student, USC Thonton School of Music
Music Composition, B.M. '19
While the academic training here at Biola is the primary focus, practical business and interpersonal relationship training is paramount for success in the "real world." The staff and faculty here have provided mentorship and biblical guidance in addition to knowledge of theory and composition that has developed my character as well as my craft. Without this, I would be simply a determined, but misguided, young mind, lost in pipe dreams.
Education
B.M. Music Composition, Biola University
Career Highlights
Collaborated with Kianna Bliven and Townsend Dick of Radicalis Pictures for the shorts "Mort." (2017), "Sunsprite" (2019) and "Nightlight" (2019).
Scored first feature-length film "Bully's Bane" (2016)
Honors/Activities
2019 Sandra and Alan Silvestri Award, highest-rated candidate to USC's Screen Scoring program
2019 Biola Film Festival: Best Original Score, winner for Sunsprite
2019 Biola Conservatory of Music Outstanding Composer Award for artistic endeavors
2019 Biola University Composition Competition, 1st place winner for "Patchwork Grey", 2nd place winner for The Artisan
2018 A Piacere Solo Composition Competition, winner for "Patchwork Grey"
2018 PRISM Competition, winner for "Alaska: Crest of the Hinterland"
2018 Featured Composer at Vienna Summer Music Festival
2018 Biola Conservatory of Music Outstanding Composer Award for artistic endeavors
2018 Biola Film Festival: Best Original Score, winner for Mort
2018 Biola University Composition Competition, 1st place winner for Karyenda; 2nd place winner for "A Raven on the Moor"
2017 A Piacere Solo Composition Competition, winner for "A Raven on the Moor"
2017 Rayner Brown Composition Award winner
2017 Biola University Composition Competition, winner for "Catacombs of a Rose"
2016 Newport News Christian Film Festival (CFF), Best Original Score winner for Bully's Bane
2016 American Choral Directors Association (ACDA): Biola Chapter Composition Competition, winner for "Carpe Diem"
2015 A Piacere Solo Composition Competition, winner for "Aficionado"
2015 National Young Composers Challenge Competition (NYCC), winner for The Water Phoenix
2014 Higher Level International Baccalaureate (IB) Music Certification
2012 International NASA Humans in Space Youth Art Competition, winner for "Alien Armada"
Links