For information on Biola University's coronavirus (COVID-19) response and updates, visit
biola.edu/coronavirus
.
Linzy Westman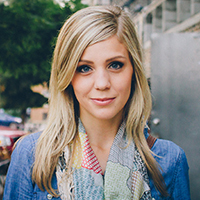 Worship Leader, Recording Artist, Songwriter
Music in Worship (Voice and Piano), B.S. '11
Biola provided me with the strong musical and biblical foundation I needed to pursue my career as a Christian artist and worship leader. The passion and talent that exists among the students is unmatched and helps inspire a close-knit community of creatives excited about impacting the world for God's glory. In addition to the education and experiences I received, the connections I made with other students and faculty at Biola have helped me advance in my ministry career since graduation.
Education
B.S. Music in Worship (Keyboard and Voice), Biola University
Recording Artist
Single "Great Exchange" — Released September 2018
Single "On and On (Let Our Voices Rise)" — Released July 2018
Solo worship EP "Here in the Waiting" — Released July 2015
Single "I Surrender all to Thee" featured in Worship Leader Magazine's Song Discovery section, Jan/Feb 2015 edition
Former Keyboardist/Accordionist/Vocalist for My Double, My Brother (FMA "The Fragrance")
Worship Leader
Interim Worship Director, Peninsula Bible Church, Palo Alto, CA, April 2019–Present
Freelance Musician & Worship Leader, San Francisco Bay Area, September 2015–Present
Christ Church, Lake Forest, IL, August 2011–15
Biola University, La Mirada, CA, September 2007–May 2011
Worship Leader, North Maine Community Church
Worship Director for various short-term international mission trips
Winter Camp Worship Leader, Thousand Pines Christian Camp & Conference Center
Piano Teacher and Vocal Coach
Private studio — August 2006–Present
Links
Photos