Laura Fooks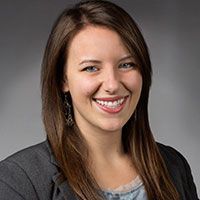 Communications Associate
Public Relations, B.A. '15
... I feel empowered to ask good questions and seek community as I follow Jesus.
How did your program at Biola prepare you for your career?
The public relations program prepared me with the knowledge and work ethic needed to succeed in the industry. I've found communication functions are fairly easy to learn; the art of relationships, however, is more tricky. The professors' teachings instilled the importance of fostering transparent relationships with key stakeholders, which has been crucial to my career success.
What did you appreciate most about your time at Biola?
What I appreciated most about my Biola education was having the time and space to think about things that truly matter. Throughout my college career, I formed many opinions and philosophies on critical life topics — everything from a theological view on Christ to interacting with those who have different beliefs to understanding how public relations fits into the Kingdom.
How did Biola equip you to be a more faithful follower of Jesus Christ?
My spiritual life grew leaps and bounds while at Biola. I felt and still feel empowered to ask good questions and seek community as I follow Jesus. Biola helped show me that life isn't about putting ourselves first, but seeking God's Kingdom first and foremost. Throughout my Biola journey, I was humbled, encouraged, challenged and inspired by my peers and professors.
What advice would you give to students considering your degree program?
A wise professor once told me that public relations is a mixture of five things: communication, journalism, business, art and psychology. If you're interested in those topics, have a knack for writing and are unafraid of working hard for a cause you believe in, then you belong in Biola's public relations program.
And if you do choose to join the program, I recommend joining Biola's Chapter of the Public Relations Student Society of America (PRSSA) as soon as you can! It's the best pre-professional Society to help jump start your career.