Josh Kristianto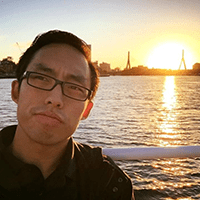 General Assignment Reporter at NBC Montana
Journalism and Integrated Media, B.A. '14
Biola helped me understand what I believed since I was small more deeply and more clearly.
How did your program at Biola prepare you for your career?
The broadcast and journalism courses I took really prepared me for the technical aspects of the television news industry.
From working with advanced camera equipment to learning about the differences between a VOSOT and a package, I was able to hit the ground running when I got my first job as a reporter in Montana.
The myriad of on-campus student media like EagleVision and The Chimes was also a great way for me to broaden my skills in different mediums. Having multiple outlets to diversify your journalism portfolio is essential in today's convergent industry.
What did you appreciate most about your time at Biola?
What stood out most to me about Biola is the community, whether it's the friends you make on your dorm floor or the professional connections you'll have with fellow journalism majors when you graduate.
The professors were there to help me with all the questions I had about classes or the news industry. They were even there for me after I got my reporter job when I had questions about coming up with story ideas and being a light for Christ in the workplace.
How did Biola equip you to be a more faithful follower of Jesus Christ?
I was raised in a Christian family. I was taught all the important Bible stories, characters and verses. Coming to Biola, being surrounded by a community of believers and learning from some of the best Bible professors anywhere, those stories, characters and verses took on a new life. Biola helped me understand what I believed since I was small more deeply and more clearly.
It is from the new perspectives I learned at Biola that I am able to follow Christ more faithfully in my life and in my work.
What advice would you give to students considering your degree program?
Try everything. Shoot a story for EagleVision, write an opinion piece for The Chimes, start your own radio show for The Torch. Those are the things I did, and those are all things that can fill the professional portfolio you'll show your future employer.
Don't be afraid to ask for help too.