For information on Biola University's coronavirus (COVID-19) response and updates, visit
biola.edu/coronavirus
.
Joel Balzun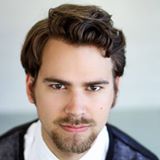 Baritone, Composer, Educator
Composition (Voice), B.M. '13
My experiences at Biola - especially those with applied faculty - helped me solidify the connection and intersection that is present between my craft as a musician, and my identity as a child of God. As I return to join the applied voice faculty, I hope that I can help my students identify the same crucial intersection that has informed my own musical preparation and performance.
Education
M.M. Performance and Literature (Voice), Eastman School of Music
B.M. Composition, Biola University
Mastersingers Project for Young Dramatic Voices with Jane Eaglen
Tanglewood Music Centre Vocal Fellow at Eastman and Biola
Additional studies at University of Calgary (Music Composition)
Voice masterclasses with Renée Fleming, Thomas Glenn, Vittorio Grigolo, Eglise Gutierrez, Alan Held, Catherine Robibn, Sanford Sylvan and others
Awards
3rd Place: Metropolitan Opera National Council Auditions (Western Region - 2020)
Robert & Winifred Connelly Green Award: Lyndon Woodside Oratorio Solo Competition (2019)
First Place: Gwendolyn Roberts Young Artist Competition (2018)
Semi-Finalist: George London Competition (2018)
Multiple prize-winner: SOCAN Foundation Awards for Young Composers (2017)
Raphael Bundage Young Artist Award: Orpheus National Vocal Competition (2017)
First Place: Rio Hondo Symphony Young Artists Competition (2016)
Finalist: ASCAP Morton Gould Young Composers Awards (2014)
Grand Prize & Young Composers Prize: National Broadcast Orchestra of Canada Galaxie Rising Stars Award (2010)
First Prize: Classical Marimba League International Composition Competition (2009)
Prizewinner: Dallas Winds Call for Fanfares (2008)
Career Highlights
Carnegie Hall debut: April 2019 (return performance September 2019)
Kennedy Center debut: April 2014
Shostakovich's Symphony No. 14 with Tanglewood Music Centre Orchestra (cond. Christian Reif)
"Sing, America!" with Stephanie Blythe and Alan Louis Smith at Tanglewood on Parade
Cantata BWV 187 with Tanglewood Music Centre (cond. John Harbison)
"Pilatus" in Johannes-Passion with Rochester Bach Festival (cond. David Chin) with subsequent radio broadcasts across USA
With Pacific Opera Project: Marcello (La bohème), L'horloge comtoise (L'enfant et les sortilèges), El Dancaïro (Carmen) and others
With Pittsburgh Festival Opera: Gianni Schicchi (Gianni Schicchi), Telramund (Lohengrin - excerpts), Schaunard (La bohème) and others
Composition commissions from Lynx Project, Standing Wave Ensemble, University of Calgary Wind Ensemble, Vancouver International Song Institute and others
Press Comments
"Joel Balzun regaled us with one of the best star turns of the day as Ravel's Clock. Wedding uninhibited, goofy stage business to his ringing, imposing baritone, Mr. Balzun served notice that at this moment, the stage was his." — James Sohre, Opera Today, January 2020
"Most impressive among the evening's young artists was baritone Joel Balzun, an already mature artist with a voluminous sound that he had always under control, capable of scaling down and coloring the words for the meaning and emotive purposes." — Robert Croan, Pittsburgh Post-Gazette, July 2018
"Joel Balzun, como el reo en el pabellón de la muerte, tuvo momentos brillantes y fue siempre muy creíble en su papel." ["Joel Balzun, as the death row inmate, achieved brilliant moments, and in every way made his role believable."] — Daniel Fernández, el Nuevo Herald, July 2017
"As De Rocher, the baritone Joel Balzun was the portrait of the slovenly, scary Death Row inmate, with shackles, tattoos and an exposed undershirt. With a stentorian voice, he managed his character's transformation from the face of criminal menace glaring from the newspaper photos to a portrait of raw humanity, filled with fear, guilt and a wisp of hope that something could transform his life this late in the game." — David Fleshler, South Florida Classical Review, July 2017
"A capable group of TMC Vocal Fellows – Sarah Tuttle, Adriana Velinova, Quinn Middleman, Joel Balzun, and Keith Colclough – divided up the songs and delivered them with skill and directness." — Jeremy Eichler, Boston Globe, August 2016
"... Joel Balzun, was the winner of the NBO's first Galaxie Rising Star Composers' Competition for composers [under] on 35 with Miracle Ten-Zero-Two-Five-One, a very sophisticated piece...it's clear that the state of new composition in Canada is healthy." — Lloyd Dykk, straight.com (Vancouver, BC), November 2010
"...the Balzun work displays an impressive mastery of orchestral writing that reminds you of Hollywood epic (a la Exodus)-meets-Mahler, especially in the big play on the major-minor treatment that Balzun accords his own variant on Frere Jacques for the bulk of the piece. Ending on a jubilant note, A Missing Generation struck an obvious positive chord with many of the younger members of the audience - as well it should, given the buildup of excitement that came through in the writing and the CPO realization of it. Clearly, a composer to watch." — Bob Clark, Calgary Herald, May 2010
Teaching Highlights
Teaching Fellow, Biola University (since 2019)
Guest Teacher, Pittsburgh Festival Opera
Young Professional Artist Program (2019)
Adjunct Faculty, Biola University (2015-2019)
Part-Time Instructor, Fullerton College (2016-2019)
Nominee: Teaching Assistant Prize (Eastman School of Music - 2015)
Teaching Assistant in Applied Private Voice (Eastman School of Music: 2014-2015)
Links
Photos