For information on Biola University's coronavirus (COVID-19) response and updates, visit
biola.edu/coronavirus
.
Hannah Parrott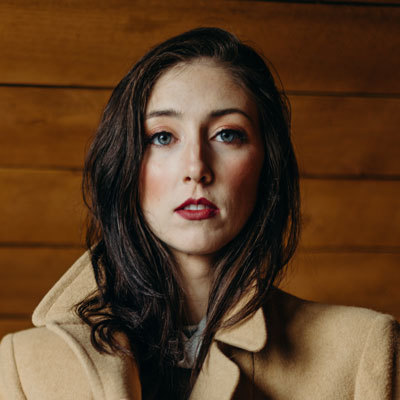 Composer, Orchestrator, Arranger
Composition (Piano), B.M. '14
Through the faculty's integrated encouragement and honest critique, I have been apprenticed in my craft, equipped to see and to listen, to diagnose and to learn. They have aided in coaxing my intentions and creative fragments into unique realities, and they have shown me the immense possibilities while putting the tools in my hands. Biola's Composition Area provided a place for me to be richly and individually challenged, stretched, strengthened and matured, and through their mentorship, I am able to confidently continue this lifelong journey of learning!
Education
B.M. Music Composition, Biola University
Society of Composers and Lyricists Mentor Program
Awards
Best Original Score for Heritage - Biola Film Festival (2014)
First Prize Winner - Biola Univeristy Composition Competition: Ivan Moody judge (2014)
Winner - Biola University Professional Ensemble Recording Competition (2013)
Composer
Trial By Fire (Trailer Music) (2019) – Roadside Attractions
Nike: Department of Unimaginable Spot (2019) – Nike
ReMastered (2018-2019) – Netflix
Operation Finale (Trailer Music) (2018) – MGM
When Jeff Tried To Save The World (2018) – Gunpowder & Sky
The Flood (2018) – National Geographic
So Shook (2018) – DreamWorksTV
Head Count (2018) – LA Film Festival
Frontiersmen (2018) – History Channel (Prod. Leonardo diCaprio)
Origins: The Journey of Humankind (2017) – National Geographic
Alaskan Bush People (2017) – Discovery Channel
Mountain Men (2017) – History Channel
Planet of the Apps (2017) – Apple
Barbarians Rising (2016) – History Channel
Swipe Right (2016) – Cannes Film Festival
Teddy Bears Are For Lovers (2016) – Crypt TV
Reagan (2016) – LA Film Festival
Legends and Lies (2016) – Fox
This Is Not the End (2015) – San Francisco Independent Film Festival
The Hobbit: The Desolation of Smaug (Bonus Features) (2014) – Warner Bros.
Chaisson: Quest for Oriud (2014) – San Diego Comic-Con
Heritage (2014) – Sedona International Film Festival
Orchestrator

Finding Dory, Thomas Newman – Dir. Andrew Stanton (2016)
The Magnificent Seven, James Horner – Dir. Antoine Fuqua (2016)
Bridge of Spies, Thomas Newman – Dir. Steven Spielberg (2015)
Titanic Live World Tour, James Horner – Dir. James Cameron (2015)
Additional Experience
Blue Planet II (BBC) – music editor, featured vocalist, technical score engineer (2017)
Planet Earth II (BBC) – featured vocalist and technical score engineer (2016)
Southpaw (Escape Artists) – assistant recording engineer (2015)
The 33 (Warner Bros.) – assistant recording engineer (2014)
Links
Photos