For information on Biola University's coronavirus (COVID-19) response and updates, visit
biola.edu/coronavirus
.
David Maemone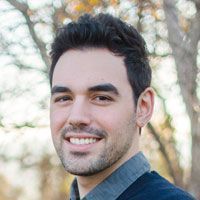 Touring Musician, Recording Artist
Biola played a pivotal role in helping me make a smooth transition from full-time student to full-time musician. I was taught to strive for musical excellence and spiritual depth from real working professionals with a heart for both music and God. I am so excited for the introduction of the new commercial music program! Navigating the intricacies of the modern music industry is no small task. Musicians are not only required to be musically versatile but also business-minded and technologically-savvy. I am confident this program will equip students with the tools necessary to make a strong impact in today's ever-changing music scene.
From an early age, David Maemone knew he was destined to do music. Originally from San Jose, California, David moved to Los Angeles in 2007 to begin studies in classical composition and jazz piano at Biola University's Conservatory of Music. It wasn't long before his knack for pop music was noticed, and he was recruited to play keyboards and electric guitar for Platinum-recording artist Andy Grammer. Since then, David has gone on to perform with artists such as Colbie Caillat, Chris Wallace, and Brendan James, and has shared the stage with artists like Train, Gavin DeGraw, Mat Kearney, Cher Lloyd, and more. He is currently working as Music Director/Keyboardist/Guitarist for the "X-Factor" pop group, Fifth Harmony.
Links
Photos