Andrew Mollenbeck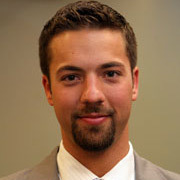 Reporter, WTOP, Washington, D.C.
Broadcast Journalism, B.A. '07
During the course of his college years, Mollenbeck was involved with and helped lead all three forms of campus media (The Chimes, Eaglevision and Biola Radio). In 2002, a radio newscast won a national award at the College Media Advisors' conference in New York City. The "Apple Award" was for best college radio broadcast. The same newscast got second place at the National Radio Broadcast Awards in Dallas.
Off campus he was equally involved, using each summer and winter break to intern or work outright in radio. Those stations included WHO in Des Moines, Ia; KOGO in San Diego, Calif (employee); and WTOP in Washington, DC (intern). Having a mental checklist of where he wanted to be at what time, Mollenbeck's goal was to work in Los Angeles by the time he graduated Biola.
As it happened, he was still at Biola when that opportunity came. In January of 2007 Mollenbeck began as a reporter for KNX in Los Angeles, the CBS affiliate. For three and a half years he was part of "Southern California's Morning News." During that time he covered the presidential campaign and debates, the O.J. Simpson armed robbery and kidnapping trial in Las Vegas, President Obama's inauguration in Washington, DC and the devastating earthquake in Haiti.
He also returned to Biola frequently to maintain friendships with faculty and staff and to invest in students. One semester he led a Bible study for journalism majors. Another he taught a broadcast writing course as an adjunct.
In May of 2010, Mollenbeck accepted an offer at WTOP in Washington, DC, where he now lives.