Writing for Film and Television Concentration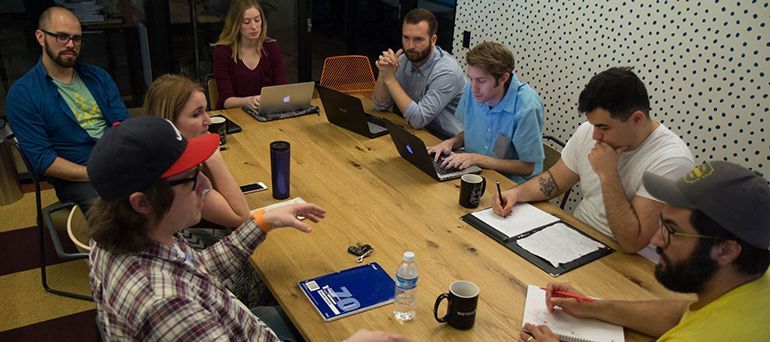 The Writing for Film and Television concentration is for the young writer who wants to work in Hollywood writing for the screen. Full-time and adjunct faculty teach various levels of dramatic writing. Top working professionals teach or create Writer's Rooms with students, speak on current trends in the industry and hold weekend workshops. You will learn how to narrow down your ideas into viable commercial stories and develop your script so it's ready to sell to an industry hungry for new content!
Beginning writers will be taken from The Art of Storytelling through four years of classes until you have a polished script (or a few!) ready to pitch professionally to find representation and work in the industry.
Shredders, the Screenwriting club, meets weekly to table read and workshop student work and dissect Academy Award winning scripts.
Internships for writers may include doing coverage for major TV production companies and major studios. Recent 4th-year students were brought into the creative development of projects for Nickelodeon, Disney, AMC, Paramount, Lin Pictures, Relativity, Bad Robot and many more.
Formats include:
Writing for Animation
Writing the Sitcom
Writing the TV Drama
Writing the High-Concept Feature Film/Franchise
Writing the Indie Feature Film
Writing the Web Series
Writing the Documentary
Writing for Reality TV
Freshman Year
Cinematic Storytelling, whether for TV or Film, is told on many levels including classic story structure, genre beats, symbols, themes, setting, etc. Your core classes this year will include The Art of Storytelling, Visual Aesthetics and Introduction to Writing for the Screen.
Sophomore Year
Writing for the Screen II kicks off the Fall Semester of your second year. You will also be exploring Character Development and Dialogue, Entertainment Business and Writing the Scene.
Junior Year
As a junior you will be fully engaged as a young professional screenwriter in Creative Writing: Fiction and Coverage and Rewrites, along with elective classes.
Senior Year
Beauty as Truth explores how to weave worldview into a story. You will also be editing your writing portfolio, which includes a feature, pilots and short scripts from earlier classes. in your internships, you will be taking all of your knowledge into Hollywood as you work in one of the most influential industries. Electives and directed research round out your opportunities.
You may also be interested in