Writing for Film and Television Concentration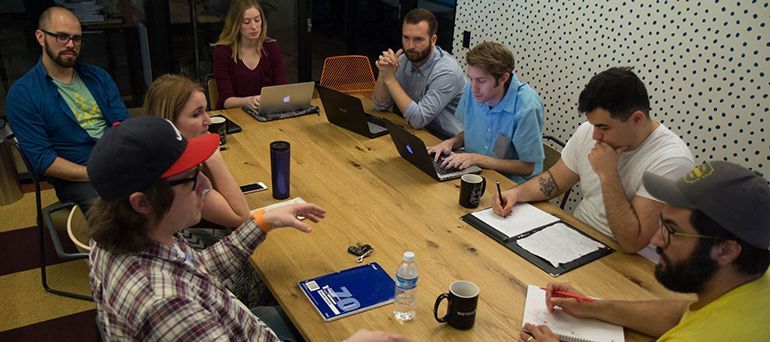 The Writing for Film and Television concentration is for the young writer who wants to work in Hollywood in feature films or television. Full-time and adjunct faculty teach various levels of Screenwriting, and some top working professionals drive to campus to teach or create Writer's Rooms, specific classes or weekend workshops. You will learn how to narrow down your ideas into viable commercial stories and develop your script so it's ready to sell to an industry hungry for new content!
Beginning writers will be taken from The Art of Storytelling through four years of classes until you have a polished script (or a few!) ready to pitch professionally to find representation and work in the industry.
Shredders, the Screenwriting club, meets weekly to table read and workshop student work and dissect Academy Award winning scripts.
Internships for writers may include doing coverage for major TV production companies and major studios. Recent 4th-year students were brought into the creative development of projects for Nickelodeon, Disney, AMC, Paramount, Lin Pictures, Relativity, Bad Robot and many more.
Formats include:
Writing for Animation
Writing the Sitcom
Writing the TV Drama
Writing the High-Concept Feature Film/Franchise
Writing the Indie Feature Film
Writing the Web Series
Writing the Documentary
Writing for Reality TV
Freshman Year
Cinematic Storytelling, whether for TV or Film, is told on many levels including classic story structure, genre beats, symbols, themes, setting, etc. Your core classes this year will include The Art of Storytelling, Visual Aesthetics, Intro To Mass Media and Screenwriting 1. You will be exhausted and feel as if you were writing all the time. You were.
Sophomore Year
Screenwriting II kicks off the Fall Semester of your second year along with Creative Writing Fiction from a professor in our English department that all of our students recommend. Second semester things get even more serious with Entertainment Business and Writing The Scene. Several recent graduates said this was their favorite class.
Junior Year
You will be fully engaged as a young professional screenwriter if you have done the work in your first two years. That begins to matter, because first semester of your third year the most serious students will be invited to sign up for The TV Writers Room. As you can imagine that room cannot hold more than a dozen writers. All of you will take Character Development and Dialogue from one of the industry's top instructors. In the Spring Semester you will learn how to do professional Coverage and Rewrites and an elective.
Senior Year
The head of the CMA Program, Jack Hafer, is an expert in the field about how to weave your worldview into your scripts without preaching. He calls this class Beauty As Truth and you will leave fully convinced God wants some of us to be artists and He has called us to this spiritual task. Your other "class" is you working as a writer on your Senior Media Project - either a feature film script or a show bible and pilot script if you are headed toward Television. Your last semester will be you taking all of your knowledge into Hollywood to intern at one of the industry's top companies. Most of your credits will have been completed and if you want you may choose an elective like Understanding Representation, or Writing For Animation, or you may apply to do Directed Study of a subject you want to explore directed by one of the faculty.
We are always improving and adding more Adjuncts who have long term mastery of a certain element of screenwriting, so things may change a bit for the better before you graduate, and a few of you will take a slightly different path based on prerequisite fulfillment, semester credit loads, etc, but our Writing for Film and Television Concentration is designed to help you understand the basic professional level of working as a screenwriter in Hollywood. Hopefully, your learning in this area will never be complete. But you will know who the serious players are in town and what they are looking for if you do the work.
You may also be interested in