Academics

Learn About Our Programs
At Biola, we're committed to empowering a generation of biblically grounded storytellers and innovators to impact our culture and bring authentic stories to life. Through individualized attention from professors, access to top-of-the-line equipment and contact with leading industry professionals, you'll be equipped to make your way in the worlds of film, games and beyond.
---
Degrees
Concentrations
Sound Design

Sound designers are audio masterminds. From capturing on-set sounds to the final audio mix, you'll learn how to ensure that every audio element moves the story forward. In our program, you'll have complete access to the equipment you need to capture foley, practice automatic dialogue replacement (ADR) and mix and master the music — all while collaborating with talented, invested peers who love the world of film.

Entertainment Business

If you want to be involved in some of the biggest decisions within one of the most impactful industries on the planet, entertainment business may just be for you. Whether you're commissioning scripts, hiring producers and directors, or sealing the deal once the film is complete, you'll need to be equipped to make informed, high-level decisions. That's why we partner with the Crowell School of Business. You'll have all the knowledge and experience you need to become a development, production, marketing or distribution executive — bringing stories that matter to the people that need to hear them the most.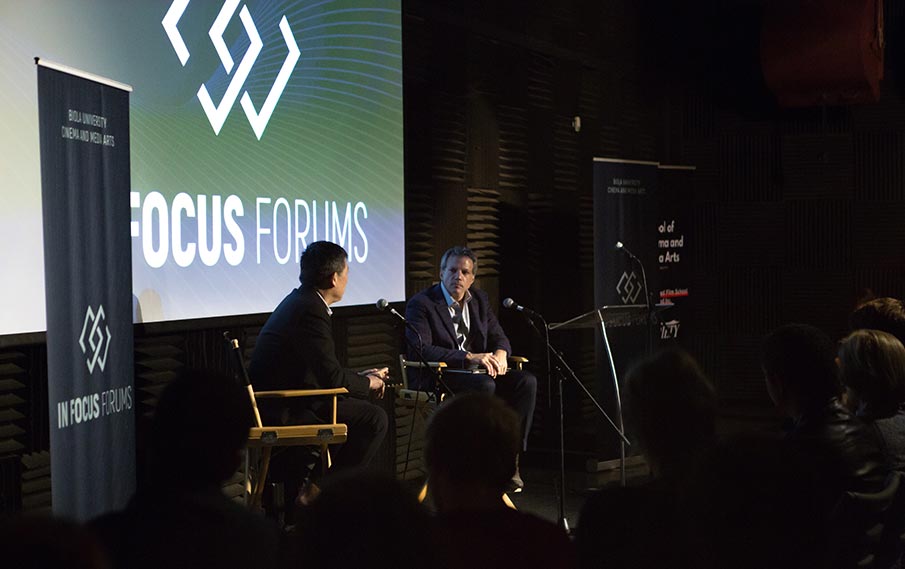 Hear from your heroes
Industry Speakers
Biola regularly hosts speakers and guest lecturers from all facets of film and media production. These established and well-known industry professionals bring years of experience and bleeding-edge insight into the current state of entertainment.
Go behind the scenes
Internships
Good internships are key to success in the world of entertainment. You'll get on-the-job experience, professional connections and exposure to real-world scenarios. You will be required to have at least one internship during your time at Snyder School of Cinema & Media Arts, and we encourage you to have more.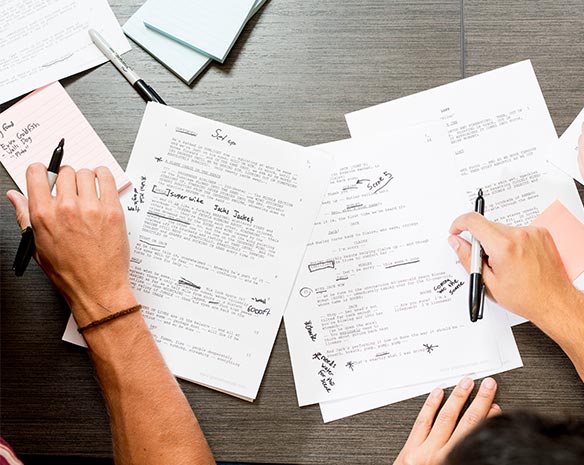 The Biola Difference

When you're looking at a career in film, there are a lot of things to consider. In addition to a biblically grounded worldview and a competitive tuition rate, a few things make our program a cut above.
Strong Community

For many, the biggest draw of film school isn't the classes. It's the community. For the same reason we maintain industry connections and push for good internships, we cultivate a thriving community of artists studying and experimenting with film and media together. Film school is a place where you can try and fail and try again before the million-dollar stakes of a career rest on your shoulders. It's a place where a group of creatives, diverse in background but united in spirit, can challenge and encourage each other. And the friends you make here may be the friends who get you that job that kick-starts your career.

Technical and Creative Chops


With training available from our Studio Facilities, hands-on assignments in every class and thorough production management training, you'll come away from your time at Biola with solid technical experience and a broad understanding of how films are made. In addition to these skills, you'll grow as a storyteller and artist. From writing and storyboarding to makeup and lighting, cinema and media arts is full of courses and opportunities that will stretch your creative mind.

Robust General Education

Great artists are grounded in a broad education. In addition to rigorous film classes, Biola offers world-class Bible courses and a robust general education program. You'll graduate with a Bible minor and a solid base of knowledge in humanities and the sciences. Or if you're looking for something a little different, you can get your general education from Torrey Honors College. Either way, we're here to equip you to be sharper, wiser and more prepared for the complexities of life.
Off-Campus Programs
Biola offers a wide variety of study abroad and off-campus programs that integrate well with the cinema and media arts major. Here are just a few that are especially well suited to film students:
Sundance
As a Sundance Institute Associate, Biola's Snyder School of Cinema & Media Arts grants students access to screenings, panels and industry workshops. We are also a Windrider Partner, which means students get to engage with over a hundred Christian filmmakers from around the world.
International Film Program
Every year, Biola's Snyder School of Cinema & Media Arts offers a production course that takes students overseas to create films with local writers, producers and actors in countries around the world. Previous classes have shot in Japan, Germany and Indonesia.
---
See it in action
Torrey Honors and Biola's Snyder School of Cinema & Media Arts
Students who enroll in both Torrey Honors College and Snyder School of Cinema & Media Arts have access to a unique education designed to equip and train storytellers who can think critically, discern truth and communicate compassionately.