Meet Our Dean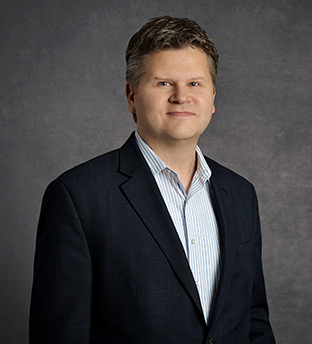 Tom Halleen, former executive vice president of programming strategy, acquisitions and scheduling at AMC Networks, joins Biola as the founding dean of the Snyder School of Cinema & Media Arts. Through his nearly 30 years as an entertainment industry executive, Halleen has experience in all divisions of programming national television networks including acquisitions, scheduling, development, production, operations, viewer services, research, legal, standards and practices, and promo/media planning. With his vast experience, he has an in-depth and unique understanding of the interrelation of all programming elements that contribute to a network's schedule. Together with his reputation for integrity, ingenuity, and transformative leadership, he's uniquely qualified to lead Biola's Snyder School of Cinema & Media Arts to grow and thrive into new media opportunities as one of the top film schools in the world.
Halleen began his journey with the Family Channel (now known as Freeform) and worked his way from intern to senior vice president of primetime programming and development. In 2002, he joined AMC as vice president of programming and scheduling where he was part of the historic team that strategically transitioned AMC into one of the most innovative and successful cable networks on television in part through the launch of groundbreaking and Emmy winning series including Mad Men, Breaking Bad, and The Walking Dead, the highest rated basic cable series in television history. For 18 years Halleen remained at AMC Networks, rising to Executive Vice President of Programming Strategy, Acquisitions and Scheduling across all five of their national television networks: AMC, BBC America, IFC, Sundance TV and WEtv.
Throughout his career, Halleen led multiple national television networks through schedule and brand overhauls with record-breaking results. He negotiated for the acquisition of over $1 billion in series, specials and movies. He has over 12 years of experience in developing and supervising hundreds of hours of original series, movies and specials across all genres, including Emmy-winning productions. Yet according to Halleen, he values the highest accomplishment as the relationships he's built through the years at networks and studios alike, including Warner Bros., Paramount, NBC Universal, Sony, Fox, Disney, MGM, CBS, Lions Gate, Miramax, Amazon Studios, among others.
Halleen earned an M.A. in communications with a media management concentration from Regent University and a B.A. in mass communications with a television production concentration from Taylor University. He received distinguished alumnus awards from both universities.
He continues as an active member of the Academy of Television Arts & Sciences and previously served on the TV Parental Guidelines Monitoring Board.
Watch the video below for a greeting from Halleen.