Alumni Success

Set Up for Success

Our Snyder School of Cinema & Media Arts alumni have become influential directors, writers, producers, executives and VFX supervisors in Hollywood and around the world. Meet some of our recent graduates — and get a sense of where a degree from Biola could take you!
Read Alumni Story
Getting to do work at ILMxLAB is just kind of a dream job. Not only is it Star Wars, but it's also innovative technology and the artistic work and story work all combined. It feels a lot like visual effects felt 25 years ago when you'd start to do a visual effect and the question was, "Can we do this?" Trying to figure out how to do storytelling in this new media is very interesting. It's a huge challenge and the truth is we don't really know exactly how to do it but we've got the best people in the world to figure it out with so it's pretty fun.
My name's Rob Bredow and I run the New Media groups here at Lucasfilm and Industrial Light & Magic, so that's called ILMxLAB. And I'm the Vice President of the Advanced Development group which is an amazing technology group here. I was really interested in the mixture between technology and art and had been my whole life. My high school program was really great and when I compared that to what Biola was teaching, it was actually somewhat similar. So then I was like, "Well, I could combine the technology "from my high school with film at Biola," and maybe I could do this mix that I was looking for, doing visual effects and computer animation. I started at a company called VisionArt and I ended up working there for about 10, 12 years. That job was the first time I got to do computer graphics professionally. We worked on shows like Deep Space Nine and then, later, Independence Day and Godzilla.
After 10 or 12 years at VisionArt, I left VisionArt for Sony Imageworks and I worked there for almost 15 years. At Sony I started as a technical director, which is a person on the box doing effects animation. I worked on movies like Stuart Little and Castaway. And then later I did Surf's Up and Cloudy with a Chance of Meatballs as a visual effects supervisor, which is a person who's running the whole show, working directly with the directors, making sure their vision gets on the screen. Just over a year ago, I left Sony to take a position up here at Industrial Light & Magic at Lucasfilm. I started here as a visual effects supervisor, going to be working on one of the Star Wars movies. That was the plan, and then immediately after I arrived, they had this need in the Advanced Development group in the New Media business and I've been helping out with that ever since.
The mission of ILMxLAB is to create completely new experiences. So this is like virtual reality and augmented reality and other immersive experiences. And our team is creating new technologies and combining our story expertise, our tech expertise, our sound and visual expertise. All those teams are coming together to make these new experiences that no one has ever made before. I have seen people through my career who live a little bit more in fear, who are worried about saying the wrong thing in the wrong meeting and maybe don't say something that needs to be said because they're worried about getting fired or worried what the repercussions are. And that's just never been my focus. I'm really fortunate today to work with a bunch of people who are able to speak their mind and who have that sort of courage and conviction, but that hasn't always been the case through my career. And it's kinda remarkable how much you can stand out just by, if you're looking out for everybody's best and you are speaking from that background and without that fear, it can go a long way I think.
A Cast of Creators
Snyder School of Cinema & Media Arts alumni have achieved career success in a wide range of roles — from movies to streaming series to game design and more. Below is just a sampling of standout alumni.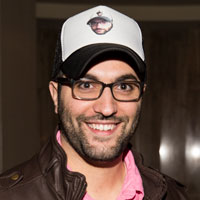 Chris Masi ('09)
Writer, Graceland, Star
"[Cinema and Media Arts] was like one big family, and the faculty were like our parents. They wanted us to succeed and we wanted to make them proud. The nurturing environment coupled with the facilities on campus and the proximity to Hollywood poises Biola to rival even the biggest film school giants."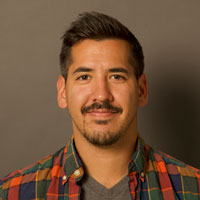 David Jacobson ('08)
Co-Producer, The Butler
"Over ten years later, some of my closest producing partnerships and working relationships have come out of [the cinema and media arts] community — a unique and tight-knit program with expansive ambitions and impact. I am profoundly grateful for that."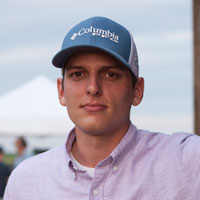 Evan Arnold ('12)
Associate Producer, Mudbound
"There is no doubt that Biola has shaped my life and my calling. Cinema and Media Arts taught me first and foremost that the film industry is a mission field and I am called to make a difference. Anyone can find their way into the film business, but it was Biola and CMA that rooted me in my faith and incorporated it in my calling with the film industry."
Scott Derrickson ('89, '90)
Director
Doctor Strange, The Day the Earth Stood Still, Sinister, Exorcism of Emily Rose
Rob Bredow ('94)
Chief Technology Officer
Lucasfilm, Sony Imageworks
Chris Herzberger
Vice President, Universal Theatrical Group
Universal Pictures
Trenton Waterson ('05)
Creative Executive
Marvel Entertainment
Rick Rekedal ('91)
Chief Creative, Global Franchise
Dreamworks Animation
Henry Riady ('09)
Director
Beritasatu (Indonesia)
John Mabry ('03)
Co-Producer
Blue Bloods (CBS)
Evan Arnold ('12)
Associate Producer
Elvis & Nixon
Nick Patapoff ('10)
Production Coordinator
New Girl (FOX)
Zach King ('12)
Filmmaker and YouTube personality
Laura Aldridge ('09)
Digital Production Manager
Captain America: Civil War, Spider-man: Homecoming, Jurassic World
Garrett Wycoff ('11)
VFX Artist
Avengers, Guardians of the Galaxy, Deadpool
Becky Boss ('09)
Writer
Being Mary Jane (BET)
Chris Masi ('09)
Writer
Being Mary Jane (BET), Graceland (USA), White Collar (USA)
Joey Kennedy ('11)
Set Lighting Technician
Fresh Off the Boat (ABC)
Sydney Patapoff ('09)
Second Assistant Director
How to Get Away With Murder (ABC)
Bryce Vankooten ('07)
Writer
The Ranch (Netflix)
Anthony Kemp ('10)
Production Manager
Pixar
David Jacobson ('08)
Co-Producer
The Butler
Kelly Kloster ('13)
Director of Acquisitions
Mission Pictures
Dani Light ('13)
Production Coordinator
Mad Max, Ant-Man
---