Production Concentration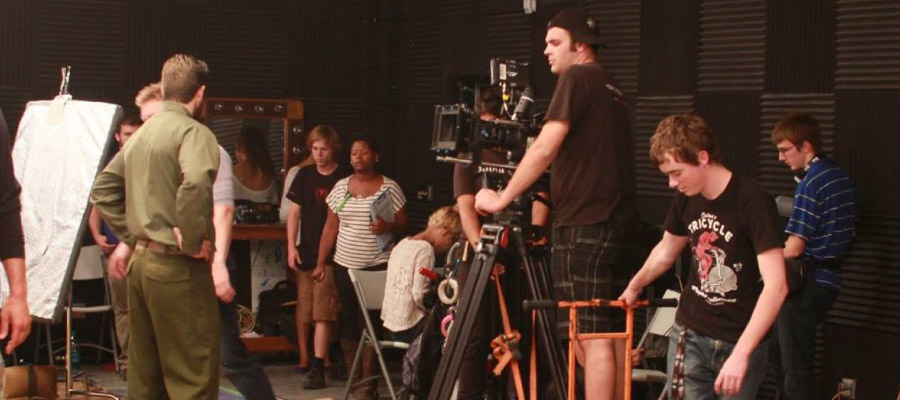 A production concentration offers students a thorough grounding in, and overview of, the creation of film, television or audio and digital media. Students are encouraged to develop their technical skills, training for positions as director, cinematographer, gaffer, editor, sound designer, recording engineer, or production designer.
Numerous short films, documentaries, TV and web segments are produced by Biola's Cinema and Media Arts majors every year. While many of these projects begin as class assignments, often the most ambitious and original attempts are made amongst friends on weekends – putting CMA student film projects at 30+ per year. The finest examples are recognized at the annual Biola Film Festival.
Biola Film Production Courses
Twice a year, the Cinema and Media Arts department offers comprehensive production classes, CNMA 358, 359, and 452. These are ambitious, bigger budget productions that utilize a large crew (usually 20 to 25 students). Biola funds both films, which are completely student produced and directed. They premiere at local theaters, Hollywood studios or on campus. Through this 9 unit, 11 month educational process, CMA majors get a sense of the complexity involved in large scale, multi-week, multi-location productions and the promotion, distribution and film festival application process that follows.
Pre-Production
Pre-Production course emphasizes script development, budgeting, casting, set construction, location surveys, and develops skills in using production equipment.
Production

Production is an intensive three-week class offered during January or June (Interterm or Summer Session). Emphasizes lighting, camera operation, sound recording, directing and accountability.
Post-Production
Post-Production emphasizes editing, music, sound effects, mixing, laboratory coordination, and distribution. Problems encountered in production must be solved in post. Throughout the arduous process, students learn the importance of collaboration.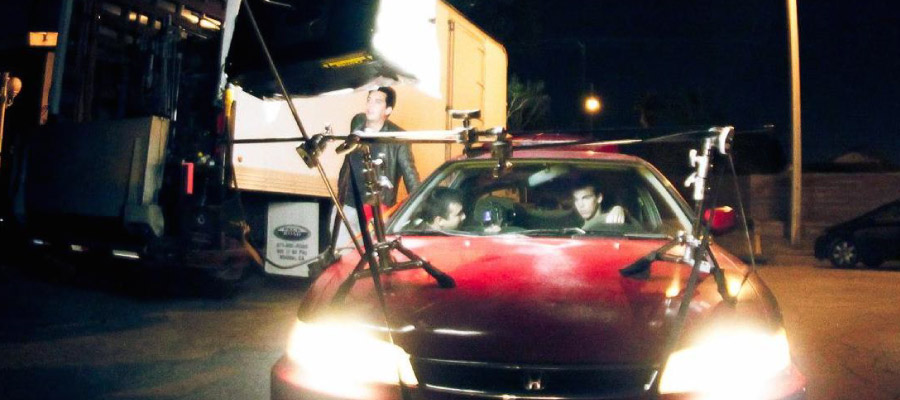 Freshman Year

Freshmen year is rooted in the classics. It begins with the ancient art of storytelling. Students will learn the timeless principles of visual aesthetics—how to become a visual storyteller through cinematography, lighting and production design. The History of Cinema class celebrates the art of motion pictures through screenings and discussions. And the opportunities to "crew up" on upperclassmen projects will broaden every skill learned.

Sophomore Year
Sophomores will experience the intense realities of production. Working on a large-scale production will teach them how careful pre-production can save you hours of chaos on location. Students will also take a class focused upon a particular craft such as producing, directing, editing or audio. Intro to Mass Media will give students a historical perspective on the rise of advertising, publishing and the broadcast industries.
Junior Year
Junior year is all about choices. Students will begin to concentrate upon their particular areas of interest. Cinema and Media Arts Seminars in crafts such as cinematography and lighting, editing and audio will be offered as one-unit intensives. Students will also have opportunities to work on their own short films, documentaries or TV productions.
Senior Year
Senior year brings the student experience together. The Senior Media Project enables students to create their own final projects that serve as a calling card to the industry. The Internship experience can often lead to direct employment following graduation. Finally, the Integration Seminar brings timeless biblical truth to today's entertainment industry. Production majors will graduate with a biblical faith, practical production skills and a few key contacts to start their career in entertainment.
You may also be interested in