B.S. in Biological Science, Secondary Instruction
School of Science, Technology and Health

Overview
The mission of the Biological Sciences: Secondary Instruction Program at Biola University is to provide an academically stimulating and challenging environment for intellectual and spiritual growth, preparing students to pursue careers as teachers to make an impact as educators in the secondary classroom.
Request More Information
Why Choose Biological Science: Secondary Instruction at Biola?
Biology is the branch of knowledge that deals with living organisms and vital processes. As such it includes the allied sciences such as zoology, botany, physiology, genetics, ecology, nutrition, biochemistry and immunology. The biological science major will develop a basic competence in these areas, and at the same time demonstrate the following:
An ability to integrate known biological facts with scriptural principles
An understanding of scientific method and its application
An understanding of important issues in various biological disciplines and their responsible applications in life
An ability to discuss theories of origins and evolution within the context of a Scriptural view of creation
What Will I Study?
In the freshman and sophomore years students learn foundational principles of biological theory and fundamental skills required for upper division courses. These principles and skills are learned in lectures as well as practical experimentation that reinforces the scientific method and documentation procedures.
Junior and senior students then complete upper-division requirement courses when they learn more advanced techniques and principles to prepare them for future careers in science. There are also several elective courses students can choose from to specialize and develop their God given talents.
One of the distinctives of the biological sciences department is a clear sense of camaraderie and community with students and faculty fostered in small laboratory sections.
For those interested in teaching Biological Sciences at the high school level, this major provides coursework that, combined with successfully passing the California Subject Examinations for Teachers (CSET), leads to a California Single Subject Teaching Credential in Science: Biological Science. The B.S. Biological Science: Secondary Instruction major requirements consist of 76 credits.

The Professional Teacher Preparation Program leading to a California Teaching Credential at Biola University is subject to change in response to new legislation. Please see a credential analyst in the School of Education for current information on completing the requirements for a teaching credential. Students must consult with both their major advisor and a School of Education advisor.
4.5 years
Standard Duration
This indicates the standard duration of this program. Completion time may vary depending on transferred coursework and preferred courseload.
143
Total Program Credits
Total program credits include a combination of major/concentration, Bible/theology and general education credits.
WSCUC
Accreditation
Biola University is accredited by the WASC Senior College and University Commission. Additional accreditations may apply to specific programs.
Career Paths
A degree in biological science for educators provides exceptional preparation for careers in education and ministry. As a well-prepared professional, you can expect to impact the world for Jesus Christ in professions such as:
Biology teacher
Physics teacher
Chemistry teacher
Math teacher
Missionary teacher
Department of Biological Sciences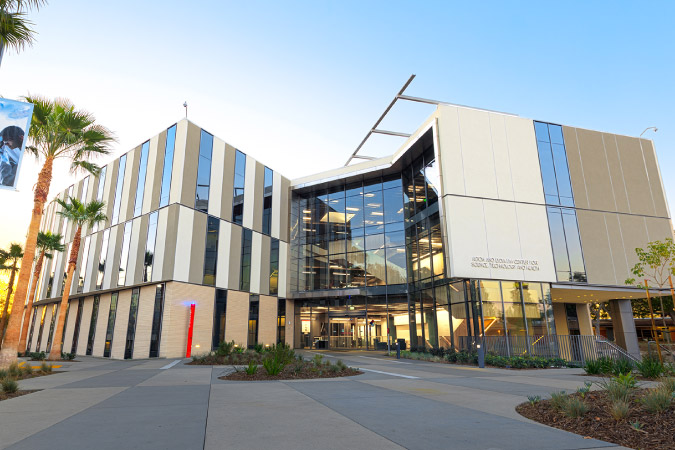 New State-of-the-Art Center for Students
The Alton and Lydia Lim Center for Science, Technology and Health offers students innovative laboratories, cutting edge equipment and research opportunities.


You may also be interested in