D.Min. Track: Biblical Justice
Overview
While it is clear that the Bible calls God's people to pursue justice in society, there are many distortions that arise from our culture's view of justice. This track will offer a solid, biblical framework for thinking about justice that avoids the misguided solutions inherent in the secular narrative. It will also offer practical steps towards pursuing justice both locally and globally in areas like sex trafficking, poverty, racial inequality, immigration and protecting the unborn.
Next Available Track: Spring 2024
Application Deadline
November 1, 2023
Residency Dates
May 13–24, 2024
May 19–30, 2025
May 18–29, 2026
The Strategy
Year One: A Biblical Foundation of Justice

This course will seek to establish a Biblical theology of justice from both the Old Testament and New Testament. We will explore God's heart for justice that is expressed in passionate terms throughout the Scriptures. We will also examine a brief history of Justice in the church and cross-cultural communication, practices and competencies to effectively engage regarding Biblical justice with humility. The course will also explore justice in the Church through exploring the theology of power and the role it plays in the pursuit of justice. We will explore the current trend of clergy abuse, recognizing that it is not a new phenomenon. Finally, we will consider what we must do different as a church leadership to create a church that values justice in the church before we seek it in the community.

Year Two: A Practical Theology of Justice (USA)

This course will begin with an exploration through some of the key areas of injustice we face as a nation, such as poverty, racial injustice, immigration, the unborn, clergy abuse and other common struggles for our communities. We will look at why these issues are gospel issues for the local church body to address. We will also be looking at justice issues through a practical theology lens so that the church can engage them Biblically and practically. We will explore how the local church can become agents of change and expressions of grace within their communities.
Year Three: A Practical Theology of Justice (Internationally)
This course will look at some of the areas of injustice, such as human trafficking, poverty, statelessness, etc. and see how these affect societies and churches around the world. We will also examine how the local church body is dealing with these issues in other countries, such as the Philippines, Thailand, Cambodia and South Korea. This course will develop cross-cultural practices and competencies that may include a cross-cultural component.
The Faculty Mentors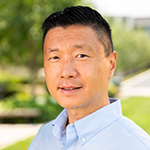 Dr. Eddie Byun is the Director of the Doctor of Ministry program and associate professor of Christian Ministry at Talbot School of Theology. He studied Speech Communication at the University of Illinois in Champaign-Urbana where he experienced his calling into pastoral ministry. Upon graduation, Byun studied at Regent College in Vancouver for his Master of Divinity degree. After graduating, he began his full-time pastoral ministry and taught at Handong Global University in Pohang, South Korea. Afterward, he was led to Sydney, Australia where he founded New Life Worship. While in Australia, Eddie completed his Doctor of Ministry in Preaching at Gordon-Conwell Theological Seminary. In 2008, God led Eddie back to Korea to be Lead Pastor of Onnuri English Ministry where he served for seven years. While in Korea, he also planted Crossway Mission Church and taught practical theology at Torch Trinity Graduate University. He is the author of IVP's Reader's Choice Award Winner Justice Awakening, Praying for Your Pastor, and Praying for Your Missionary. He is also the executive producer of "Save My Seoul," which is a documentary on sex trafficking in South Korea. "Save My Seoul" won "Best Documentary" at the Asia-Pacific Film Festival.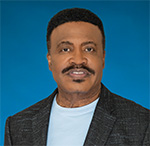 Dr. Kenneth C. Ulmer serves as Senior Advisor on Community Reconciliation to the President of Biola University. He was a member of the Board of Trustees of Biola for eight years under Dr. Clyde Cook, while also serving as the senior pastor at the Faithful Central Bible Church in Los Angeles, which he led for over 41 years. During his tenure as senior pastor, the congregation purchased the Great Western Forum, once home to the iconic Los Angeles Lakers, and transformed it into a thriving entertainment venue before selling it to Madison Square Garden in 2013.
Dr Ulmer's passion for learning includes a bachelor's degree in broadcasting and music from the University of Illinois, and studied at Hebrew Union College, University of Judaism and Oxford Summer School of Theology. He received his Doctor of Ministry degree from United Theological Seminary and Doctor of Philosophy from Grace Graduate School of Theology. He has served as adjunct professor at Pepperdine University, Grace Theological Seminary, Fuller Theological Seminary and Biola University.
Dr. Ulmer is currently the Presiding Bishop over Macedonia International Bible Fellowship, an association of pastors representing ministries he oversees in South Africa and the United States, with its headquarters in Johannesburg, South Africa. Additionally, he is the visionary CEO of The Ulmer Institute, a non-profit dedicated to groundbreaking research and compassionate treatment of psychological trauma in urban communities.
With a passionate heart to bridge the chasm between the academy and the local church, Dr. Ulmer was a founding board member along with the late Dr. Jack Hayford of The King's University formerly in Los Angeles, now in Dallas, Texas. He served as president of The King's University for two years and as director of The King's at Oxford.
Dr. Ulmer is an accomplished author with several inspirational books, including The Champion in You: Step Into God's Purpose for Your Life, Passionate God, Training To Win: A Spiritual Guide to Victorious Living, Passing The Generation Blessing, and his latest literary effort, Walls Can Fall: Race, Reconciliation, and Righteousness in a Divided World.

You may also be interested in
Talbot School of Theology
Talbot School of Theology