D.Min. Track: African American Ministry
Overview
In our rapidly changing culture, African American pastors and leaders have a unique opportunity to be a voice of hope, healing, justice, wisdom, redemption and reconciliation to the broader church at large. The African American church has incredible potential to have a powerful transformative effect in rebuilding and renewing divided communities. Where can you find the mentoring and training you need to be a catalyst of transformation and reconciliation in your community? Talbot can help.
In this Doctor of Ministry track, Dr. Parnell M. Lovelace, Jr. will equip you with the tools and knowledge you will need to expand your ministry and influence in the African American church and beyond. Through an exploration of the biblical foundations, historical dimensions, socio-economic realities, cultural influences and missiological principles unique to the African American experience, you will develop the skills to critically evaluate models of ministry and to develop intentional innovative practices to lead your church to accomplish its overall mission in your specific cultural context.
Next Available Track: Spring 2025
Application Deadline
November 1, 2024
Residency Dates
May 27–June 7, 2024
June 2–13, 2025 (New Cohort)
June 1–12, 2026
The Strategy
Year One: Origins and Foundations of Black Church Presence

During your first year in the program, Dr. Lovelace explores the origin and rich traditions of African American spirituality. Specifically, the Black church in America has continued its development as a spiritual and socially transformative movement, connected to ancient African Christianity. It potentially remains the center of Black life in the United States and can contribute greatly to the spiritual, social and economic well-being of the Black community today.

Year Two: Theologies of African American Church Leadership

During your second year, Dr. Lovelace will help you understand the integral role of Black Theologies, forming the pneumatological and psychosocial dynamics associated with the Black Church and community. You will learn how historic black scholars and theologians used their platforms to address the subjects of suffering, evil, justice, redemption and empowerment. This residency will encourage you to draw from the rich theological and varied philosophical traditions that govern healthy discourse and activism, within the context of the gospel.
Year Three: Innovations in African American Church Leadership
During your third year, you will explore innovative and contemporary methodologies of African American church leadership. Dr. Lovelace will bring expertise to the missiological aspects, relating to the leader's role as a prophetic voice, reconciler, cultural communicator and facilitator of change. You will learn how to navigate the challenges found within church structures, leadership succession and transitions. Models of community development and transformation will also be explored, dissected and evaluated, so that you can effectively develop and present a "ministry of proximity" within your respective context.
The Faculty Mentor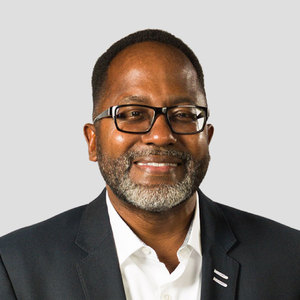 Dr. Parnell M. Lovelace, Jr. is the founding and senior pastor of the Center of Praise Ministries of Sacramento, Calif., where he has served for over 32 years as the church has grown to over 2650 in attendance. Dr. Lovelace received his Bachelors of Arts, Oral Roberts University; Master of Social Work, University of Oklahoma; Master of Practical Theology, Oral Roberts University; Doctor of Ministry, Talbot School of Theology; and a Ph.D., Cook School of Intercultural Studies, Biola University. He has served as the North American editor for the Great Commission Research Journal and has authored Set it Up: Planning a Healthy Pastoral Transition. He was inducted into the prestigious Martin Luther King Jr. International Board of Preachers and Collegium Scholars at Morehouse College.

Guest Lecturing Team
Dr. Gary McIntosh is Professor of Christian Ministry and Leadership at Talbot. He has served as a consultant for hundreds of churches in North America. Dr. McIntosh is also the founder and president of the Church Growth Network, which provides a wide range of professional consulting services in the areas of church growth analysis, strategic planning and generational change. He is the editor of the Growth Points newsletter. Having published over 100 articles and written over 16 books, he is a prolific writer and growth expert.
Efrem Smith is co-lead pastor at Bayside Church of Midtown in Sacramento, Calif. He previously served as President and CEO of World Impact, a Christian missions organization committed to church-planting in the inner city. He has authored multiple books including The Hip-Hop Church, Killing Us Softly and The Post-Black and Post-White Church. He is currently an adjunct professor and completing his doctoral studies at Fuller Seminary.
Dr. Doretha O'Quinn is a prolific national educator. She has served as Provost and Vice President for Academic Affairs at Vanguard University, Vice Provost of Multi-Ethnic and Cross-Cultural Engagement programs and Professor in Education at Biola University and Associate Dean for the School of Education at Point Loma University. She also developed and led the Institute for Urban Training at Azusa Pacific University.
Dr. William McDonald is dedicated to the teachings of Hebrew History and Jewish Studies as a means of providing a solid foundation for understand the Bible from its Hebraic roots. He is a former professor at the School of Theology and Missions at Oral Roberts University. He is a prolific author and a popular speaker.
Dr. Katrina Greene directs the international development minor and emphasis/concentration within the Cook School of Intercultural Studies at Biola University. She is a socio-cultural and applied anthropologist who has conducted ongoing field research among women, including female entrepreneurs, in the black townships of Cape Town, South Africa, since 1997, including doctoral research as a Fulbright Scholar.
Dr. Walter Augustine is the Director of Intercultural Education and Research at Biola University and an Adjunct Lecturer at Talbot School of Theology. He previously served as the Director of M.A.L.E.S. (Mentoring for the Achievement of Leadership, Education and Service) Initiatives and Multi-Ethnic Church Relations at Biola. With nearly 30 years of ministry to men, Walter's passion is discipling and developing the people of God to maturity in their relationship with Christ and their ministry for Christ.
Dr. James Noble is Assistant Professor of Pastoral Ministry at Anderson University in Anderson, S.C. He teaches courses in the area of preaching, ministry, leadership and biblical worldview. He is also the esteemed pastor of Mountain Spring Baptist Church, Anderson, S.C.
Dr. Monte Norwood, a second-generation minister, is a recognized scholar and orator regarding African-American history and theology. His many honors include being selected as a "Benjamin E. Mays Fellow" by The Fund for Theological Education. In 1994, he became one of the youngest ministers in history to earn the Doctor of Ministry degree from the United Theological Seminary with a focus on proclamation, church planting and church growth.
Donald Gordon specializes in mentoring processes. He is cofounder of Iron Sharpens Iron, an all-black male affinity group at the Student Enrichment and Intercultural Development program at Biola University. He serves as the Associate Director of Financial Aid and Customer Service at Biola University.
Dr. Kenneth C. Ulmer is senior pastor of Faithful Central Bible Church in Los Angeles, Calif., where he has served for over 37 years as the church has grown to over 3,000 in attendance. Dr. Ulmer received his Ph.D. from Grace Graduate School of Theology and his D.Min. from United Theological Seminary. He has served as President of the King's University in LA. He has also taught at Oxford University, United Theological Seminary in Dayton, Ohio, Grace Graduate School, Pepperdine University, and Biola University. He is also Presiding Bishop over Macedonia Int'l Bible Fellowship. He has also authored many books including Passionate God, Training to Win, Passing the Generation Blessing and Walls Can Fall.
You may also be interested in
Talbot School of Theology
Talbot School of Theology