Ed.D. in Educational Studies
Talbot School of Theology

Overview
At Talbot School of Theology, biblical wisdom is our doctoral programs' central pursuit. The Doctor of Education (Ed.D.) degree equips the "Leader-Teacher" with skills in research assessment and application to educational concerns. The program provides the same training in conceptual thinking, theological integration and teaching as the Ph.D. program, but with more applied focus. This degree is intended for the needs of education leaders and some Christian higher education settings.
The Ed.D. degree, established in 1984, has a strong record of equipping educators for advanced positions of educational leadership, research and publishing. It involves 36 credits of coursework and 6–12 credits of dissertation that can be completed in two years full-time study or three years part-time. The dissertation demonstrates a competency in literature review research and the contribution of theory to the practice of educational ministry.

Students come to the program already having completed a graduate degree and usually with significant experience in educational ministry, theological education or Christian higher education. In general, doctoral students are established within a particular ministry organization and pursue this degree to receive a robust biblical and theological foundation that richly enhances their educational practice. The curriculum particularly encourages critical thinking, integrative synthesis of Scripture and social science data, and original research
Courses follow a graduate seminar format requiring student initiative for significant participation in class discussion. Small class sizes of six to 12 students permit such a dialogical format, an important element for promoting critical and integrative thinking.
Yes! Tell Me More!
Program Format
The Ed.D. degree program is a combination of one-week intensive residential core courses offered in November and March, and online and HyFlex courses offered in the fall and spring semesters. This flexible format allows students to either move to southern California or remain in their places of ministry, and only come on campus to attend the intensive residential weeks.
The program follows a cohort model, in which students work through the core courses together and select their elective courses in Christian higher education or practical theology. A new cohort begins every fall.
Courses are offered on campus in fall (late August to mid-December) and spring (January through May) semesters. A normal full-time load is three courses, or nine credits of coursework. Please note that students are counted as full-time at six credits per semester.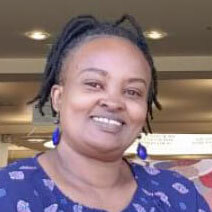 Classes have transformed me wholeheartedly and the knowledge added has enlightened me. I now want to give it back to the society through teaching others to be transformed and change their society.
Hannah Ngigi
Ed.D. in Educational Studies, Talbot School of Theology
3–5 years
Standard Duration
This indicates the standard duration of this program. Completion time may vary depending on transferred coursework and preferred courseload.
42–45 credits
Total Program Credits
Every program at Biola University features rigorous academics, biblically integrated curriculum and vocational preparation.
WSCUC / ATS
Accreditation
Biola University is accredited by the WASC Senior College and University Commission. Additional accreditations may apply to specific programs.
Program Requirements
The Ed.D. degree requires 42–45 credits of coursework, including 15 credits of core classes and a 3 credit Candidacy Exam Capstone course, 18 credits of electives and up to 9 credits of dissertation. The program's office assists with planning the schedule of courses and guides the student's progress in the program. Up to 3 credits of graduate coursework directly related to the specialization may be taken in other departments at Biola University or transferred in from other accredited graduate institutions.
Doctoral Program Proposal
During the first term of study and in consultation with the doctoral office, students identify the 18-credit electives program they will complete, along with the remaining core courses, to meet the minimum requirement. Once approved, this schedule serves as the projected course of study.
Candidacy Exam
During the final semester of coursework, the student also enrolls in the TTDE 8950 Candidacy Exam Capstone course. The student completes the candidacy exam before starting on the dissertation. The candidacy exam evaluates the student's attainment of program study objectives.
Advancement to Candidacy
Official candidacy for the doctorate signifies an advanced stage in the student's progress and is characterized by self-directed research in the completion of a dissertation under the direction of a faculty dissertation advisor. In order to be admitted to candidacy, the student must have successfully passed the candidacy exam.
Dissertation
After passing the candidacy exam, the student will enroll in TTDE 8960 Dissertation (3 credits) for up to three semesters. A student must enroll for a minimum of two terms of TTDE 8960 and must be enrolled in 8960 or 8970 Dissertation Extension the semester of graduation. Ed.D. dissertation students are considered full-time for a maximum of three semesters of TTDE 8960 only. Doctoral students must submit a dissertation evidencing high attainment in scholarship. Detailed information may be found in the Dissertation Guidelines Handbook.
Final Dissertation Defense
The final examination is an oral defense of the dissertation before the student's dissertation committee and other invited guests. Detailed information regarding the defense and final submission deadlines for graduation may be found in the Dissertation Guidelines Handbook.
Graduation Requirements
All students must present an acceptable dissertation, satisfactorily pass their candidacy exam, and complete all coursework with a minimum 3.25 GPA to qualify for graduation. Beyond completion of academic requirements, doctoral program faculty must also recommend that the student is eligible for conferral of the degree on the basis of evidence of Christian life and character established during his or her course of studies. All financial obligations must be settled. Attendance at commencement ceremonies is required when the degree is granted unless approval has been received from the dean to graduate in absentia (see the Doctoral Program Handbook for further details).
You may also be interested in
Talbot School of Theology
Talbot School of Theology