New Media Concentration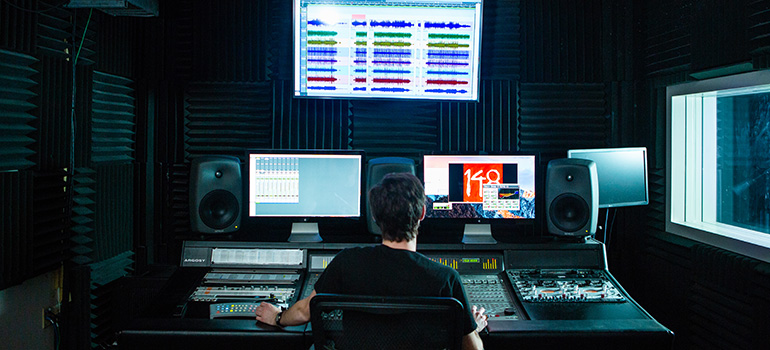 Music is integral to multimedia storytelling. In the New Media concentration, music composition students benefit from a partnership between the Conservatory of Music and School of Cinema and Media Arts — taking film and music composition courses side-by-side in order to launch into careers of creating music for movies, television, video games and more.
In the Composing for New Media concentration, you will find a B.M. degree that emphasizes classical training mixed with hands-on experience in writing and producing music for film, TV, and video games. Your primary instructors include faculty from both Biola's Conservatory of Music and School of Cinema and Media Arts. Together, they represent decades' worth of experience in new media and setting picture to music.
Starting with your first semester, you will take courses in both academic areas (music and cinema and media arts). By doing this, you will be able to understand new media from multiple perspectives. But beyond this, the film student sitting next to you in class may well end up being someone you will work with on student and professional projects in the future.
"I am so excited to see this degree offered at Biola University. We have an excellent film school here, and we have an excellent Conservatory. With this degree, they both come together. For a composer interested in film or video games, this is a dream come true!"

– Robert Denham, Area Coordinator, Composition
Why Choose Composing for New Media at Biola?
A rigorous classically based curriculum will challenge you to grow in your skills as a composer. You will work with live performers and will also master industry-standard technology that will enable you to create digital realizations of your work.
Opportunities abound for collaboration between students from the Conservatory and Biola's School of Cinema and Media Arts. These will allow you to gain practical experience in working as a team while setting music to picture.
Direct one-on-one mentorship from seasoned new media composers, coupled with open access to cinema and media arts instructors will offer valuable perspectives on the production process.
Situated just 25 miles from Hollywood, Biola is strategically located within one of the world's most renowned centers for new media production.
You may also be interested in