Clinical Experience
As part of the Master of Science in Speech-Language Pathology program, students will participate in a variety of clinical experiences — ensuring that each student will gain experience with diverse client types and accrue the necessary 400 hours for certification.
Because of the cultural and ethnic diversity surrounding Biola University and expressed in the schools and medical settings nearby, all students in the speech-language pathology graduate program will have significant opportunity to be supervised by and provide intervention to individuals from ethnically diverse backgrounds.

Clinical placements will be arranged by clinical educators and students will have the opportunity to request clinical placements based on their interests, skill set, experiences and location.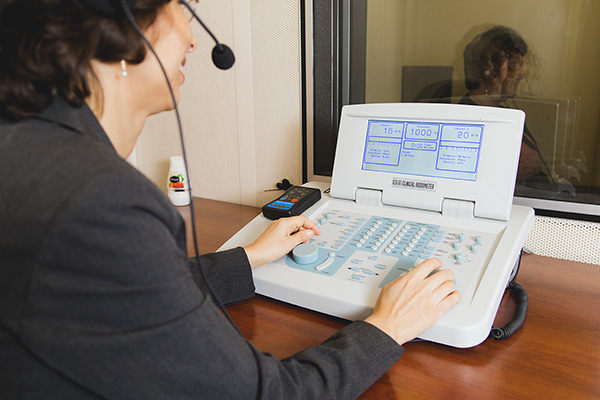 First Year
Biola Speech-Language Clinic*
Biola University's Speech-Language Clinic provides assessments and intervention to clients with a variety of communication disorders, including apraxia, aphasia, autism spectrum disorders, speech-sound disorders, fluency disorders and many more. Client ages range from two to 82 years of age. Real-time audio/visual monitoring is provided for all sessions by a trained, licensed supervisor, and students and supervisors can view recordings of sessions in order to gain formative feedback of each session.
Biola Off-Site Clinic
Arrangements have been made for master's-level students to provide speech and language intervention at four local private schools. Children enrolled in these schools have a variety of communication disorders, including speech-sound disorders, specific language disorders, fluency, auditory processing, hearing and social pragmatic disorders. Because children in private schools do not have access to intervention services offered at public schools, graduate-level clinicians will have the opportunity to assess, treat and participate in staffing meetings with teachers, parents and administration, as well as develop response to intervention plans as appropriate. Biola clinical educators will supervise and direct all of these activities.
Diagnostic Clinic
This clinic-class combination will serve as an opportunity for students to conduct diagnostic assessments with individuals who have a variety of communication disorders under the supervision of Biola faculty.
Second Year
School Externship
Each student will work for one semester with a licensed speech-language pathologist at a local school. This advanced externship experience will provide second-year students an extended opportunity to provide supervised therapy, receive feedback and participate in other components of school-based intervention, including IEP meetings, staff in-services and teacher consultation. Students will be supervised by community SLPs trained in supervision.
Adult Externship
Each student will complete a one-semester externship working with adults in a variety of settings. Students will be supervised by an SLP trained in supervision and will participate in assessment and intervention with adults who have a broad spectrum of communication deficits.
*The Biola Speech-Language Clinic does not discriminate on the basis of race, color, religion, sex, gender, gender identity, gender expression, sexual orientation, marital status, national origin, ancestry, familial status, source of income, disability, or genetic information in the treatment and services offered to the public.