M.S. in Speech-Language Pathology (SLP)
School of Science, Technology and Health

Overview
Biola's Master of Science in Speech-Language Pathology graduate program provides rigorous academic growth, research opportunities and experiential clinical education in communication sciences. Through our exceptional faculty, master's program students are equipped to become licensed, certified speech-language pathologists — helping to diagnose and treat communication disorders in children and adults.

Yes! Tell Me More!
Why Pursue Speech-Language Pathology at Biola University?
Strong Theoretical Framework
Graduate students seeking their master's in speech-language pathology will receive challenging instruction in relevant theoretical knowledge of communication sciences and disorders. Students will also be encouraged to develop continual curiosity and promote lifelong pursuit of clinical education for the service and benefit of those experiencing communication disorders.
Excellence in Clinical Practice
Clinical experiences designed to further expand communication science learning will prepare students for impactful clinical work with a variety of diverse populations and model the work and witness of clinical faculty and instructors. Biola's master's degree students will accrue the necessary 400 supervised hours for clinical certification. Our Southern California location is ideal for students wishing to access internships at clinical sites such as pediatric hospitals, veteran's hospitals and varied speech, hearing and rehabilitation clinics.
Biblical Perspective
Students of Biola's Department of Communication Sciences and Disorders will be trained by our expert graduate program professors utilizing evidence-based practice from a Christian worldview to promote the fullest understanding of human communication needs and the world.
Impactful
Students enrolled in Biola's Master of Science in Speech-Language Pathology program will connect their studies to life-contexts. They'll be well-equipped and able to use clinical skills and research opportunities in their sphere of influence to demonstrate love to people experiencing communication needs. Whether locally or globally, graduates of our speech-language pathology master's program will be able to confidently and effectively engage issues of communication sciences in clinical settings through investigation, publication and service.
CAA Accreditation Status
The Master of Science (M.S.) education program in speech-language pathology (residential) at Biola University is accredited by the Council on Academic Accreditation in Audiology and Speech-Language Pathology of the American Speech-Language-Hearing Association, 2200 Research Boulevard, #310, Rockville, MD 20850, 800-498-2071 or 301-296-5700.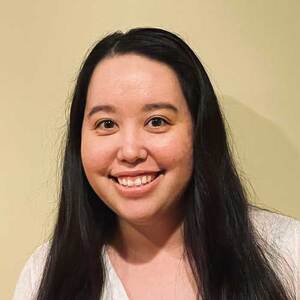 As a Speech Language Pathologist, I serve people at their most vulnerable. The professors at Biola addressed the spiritual, emotional, and mental struggles that many patients will face. After graduation and as I entered the field, I feel that I was well equipped to enter the workforce in whatever setting I chose to work.
Speech Language Pathologist
Speech-Language Pathology, M.S. '19
2 years
Standard Duration
This indicates the standard duration of this program. Completion time may vary depending on transferred coursework and preferred courseload.
63
Total Program Credits
Every program at Biola University features rigorous academics, biblically integrated curriculum and vocational preparation.
WSCUC
Accreditation
Biola University is accredited by the WASC Senior College and University Commission. Additional accreditations may apply to specific programs.
FAQ
How long does it take to complete an M.S. in Speech-Language Pathology graduate degree?
The standard duration of Biola's M.S. program in speech-language pathology is two years. Completion time may vary from student to student depending on transferred coursework and preferred course load.
What can I expect from an M.S. in Speech-Language Pathology graduate degree program?
A masters speech pathology program is designed to provide you with the knowledge, skills, and clinical experience necessary to become a licensed and certified speech-language pathologist. Biola's speech- language pathology degree program covers topics such as:
language disorders
speech sound disorders
voice disorders
fluency disorders
swallowing disorders
Students also learn about assessment, intervention, and evidence-based practices in the field. Upon completion of the program, graduates will be prepared to work with individuals of all ages in various settings, such as schools, hospitals, clinics, and private practice.
You may also be interested in
School of Science, Technology and Health