Online M.A. in Leadership and Innovation
Crowell School of Business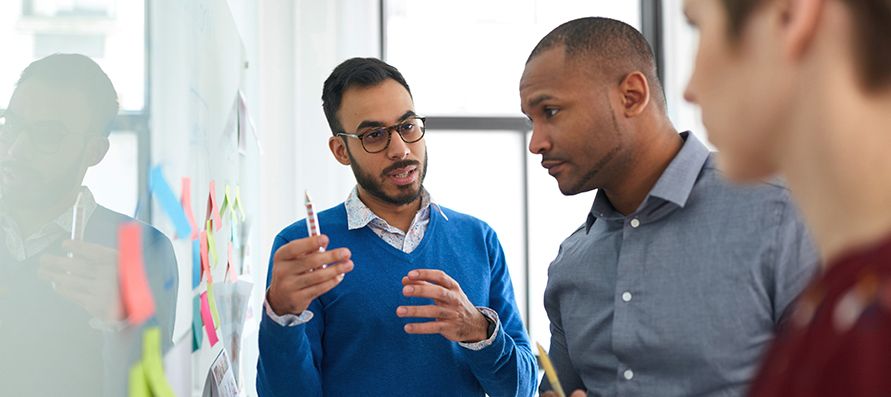 Overview
Confidence, creativity and innovation — these are a few of the most sought-after traits in leaders today, and you'll learn to cultivate these and more through the M.A. in Leadership and Innovation program at the Crowell School of Business. This fully online master's degree will teach you to elevate your influence in professional and personal settings to help you reach that next level of leadership. You'll do an in-depth dive into Scripture on God's purpose and vision for leaders, and you will learn how you can fulfill your kingdom calling to impact your workplace and communities.
Yes! Tell Me More!
Why Pursue an M.A. in Leadership and Innovation at the Crowell School of Business?
The M.A. in Leadership and Innovation program will prepare you to be a creative, driven and influential leader in the workplace today. Here are some advantages of pursuing your degree at the Crowell School of Business:


Leadership and Innovation With Biblical Integration. While other schools offer leadership programs, Biola is unique in that it combines both leadership and innovation from a biblical perspective. You will learn to creatively innovate, cultivate engagement, foster learning and lead with humility and servanthood — all skills to advance the kingdom of Christ.


Direct Classroom to Workplace Application. Every class provides an opportunity to develop as a leader and an innovator. The program is structured to be practitioner-focused and application-based, allowing students to be equipped with tools that can be directly and immediately applied within their workplace.


Flexible Program Format for Working Professionals. This fully online degree was structured with working professionals in mind. Students can study either as a part-time student (6 credits per trimester) or as a full-time student (9 credits per trimester).


Experienced and Caring Faculty Members. At Crowell, the faculty members are more than just lecturers — they are also coaches and mentors. With faculty including Dr. Jeff McHugh, Jake Aguas and Helen Mitchell, you will be led by business veterans to foster your learning experience and build your network.


Crowell's Mentor Program. As a leadership and innovation student, you will be paired with a successful Christian businessperson who will provide personal, one-on-one mentoring and executive coaching throughout the program. Our mentors are committed and growing Christians who believe in Crowell's vision of "business as ministry."
What Will I Study?
The program consists of specialized courses in leadership and innovation, in addition to MBA courses and a capstone experience. Core graduate courses include:
The Innovative Leader
Theology of Leadership
Sources of Innovation
Capstone for Leadership and Innovation
Organizational Change and Leadership
16–24 months
Standard Duration
This indicates the standard duration of this program. Completion time may vary depending on transferred coursework and preferred courseload.
36
Total Program Credits
Every program at Biola University features rigorous academics, biblically integrated curriculum and vocational preparation.
WSCUC
Accreditation
Biola University is accredited by the WASC Senior College and University Commission. Additional accreditations may apply to specific programs.
Career Paths
Earning your degree in the M.A. in Leadership and Innovation degree will broaden your creativity and innovation, and elevate your leadership proficiencies. Common career options include professions such as:
Strategic planner
Management consultant
Production manager
City manager
Marketing manager
Business leader
You may also be interested in
Crowell School of Business
Crowell School of Business
Crowell School of Business