Message from the Dean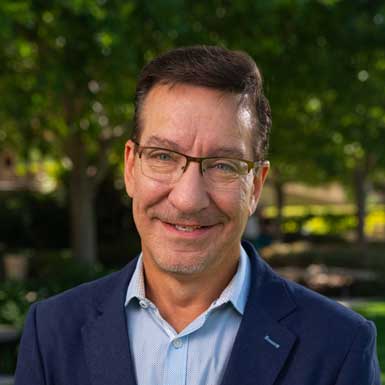 Welcome to the Crowell School of Business at Biola University, an institution with a rich history rooted in the spirit of entrepreneurship and Kingdom-minded leadership. Our journey began in 1908 when visionary business leader Lyman Stewart co-founded Biola University, recognizing the enduring influence of business in shaping our world.
At Crowell, we wholeheartedly believe that choosing a career in business can be one of the most profound decisions made towards living a life of service and significance. Whether it's in the realms of profit or nonprofit, public or private, established brands or innovative startups, our commitment to nurturing ethical leaders remains unwavering.
Our guiding vision is encapsulated in the concept of "business as ministry," where business endeavors are seen as unique opportunities to serve and uplift others, and involve three critical facets:
1. Character: We believe that character is the bedrock upon which lasting success is built. A person with unwavering honesty, reliability and transparency in both word and action earns the trust of others. The mission of Biola revolves around "equipping students in mind and character," recognizing that quarterly statements, sales targets and market share may fade away, but a person's character — how they exemplify the image of God — is eternal.
2. Relationships: The importance of relationships cannot be overstated. The early believers, described in Acts 2:42 shared a common faith and purpose, emphasizing the importance of fellowship. The need for meaningful relationships is just as significant today; recent research highlights the profound impact of social connections on performance, innovation and emotional well-being. Crowell graduates are equipped to foster healthy workplaces, where encouraging one another is vital for individual and collective growth.
3. Impact: The Crowell School of Business is committed to instilling the knowledge and skills needed to drive measurable business impact. However, our ultimate challenge is to go beyond traditional metrics and create kingdom impact by effecting positive change, aligned with God's purposes and reflecting His character. Our graduates prioritize service, ethical character and relationship-building to make a positive difference in the lives of customers, employees and the wider community.
The Crowell School of Business at Biola University isn't just a school — it's a crucible of transformation. As you embark on this journey, remember that the world doesn't simply need more skilled businesspeople; it requires influential leaders — visionaries who steer with wisdom, courage and intellectual curiosity, reflecting God's image and bringing Him glory in the marketplace.
We invite you to learn more about our school and programs.
Michael Arena
Dean, Crowell School of Business