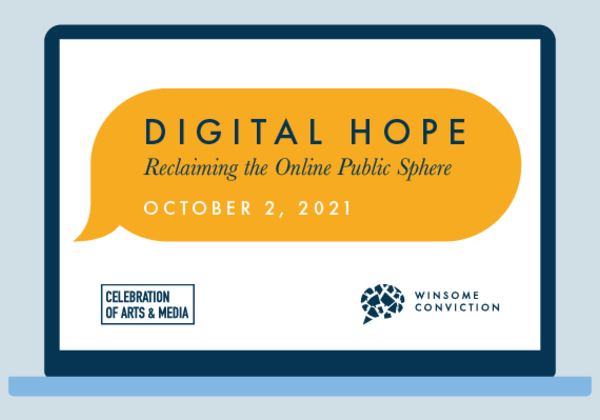 Conference on Digital Hope
Reclaiming the Online Public Sphere
Saturday, October 2, 2021
1:30–4:30 p.m. Pacific

Online live event:

Open to: Alumni, Faculty, General Public, Parents, Staff, Students
Cost and Admission
This event is free to attend.
Paul prays believers will be filled with overflowing hope and peace (Rom. 15:13). Yet, is it reasonable to think that hope and peace can be maintained in today's public sphere where online incivility often runs unchecked? Is it possible to speak truth in love with others in a digital sphere immersed in the argument culture? What hope is there for Christians to be different as we digitally engage others? Speakers will consider communication strategies and spiritual disciplines that can help us be compassionate and civil when emotions run high and insults are quickly transmitted. This event is co-sponsored by the School of Fine Arts and Communication and the Winsome Conviction Project.

Schedule and Speakers:
Arianna Molloy: Before the Conversation Starts: Sabbath Rest and Online Communication.
Chase Andre: From Civility to Love: What Does it Mean to Communicate like a Christian online?
Emily Sidnam: Does Social Media Make People Meaner? Understanding and navigating barriers to civility online.
Interview with Carolyn Kim: Dr. Kim is an award-winning scholar who is emerging as a trusted guide in today's digital world. She is the author of Social Media Campaigns (Sage Publications).
Panel discussion and Q&A with the audience.
View Live Stream of Conference on Digital Hope
COVID-19 Health and Safety Information: Due to new limitations, the option to attend the conference in-person is no longer available. Please join us for this Live Stream event.
Please visit the LA Public Health Website for current health protocols for LA County.
Questions?
Contact Crystal Tosello at:
(949) 285-0526
crystal.tosello@biola.edu