For information on Biola University's coronavirus (COVID-19) response and updates, visit
biola.edu/coronavirus
.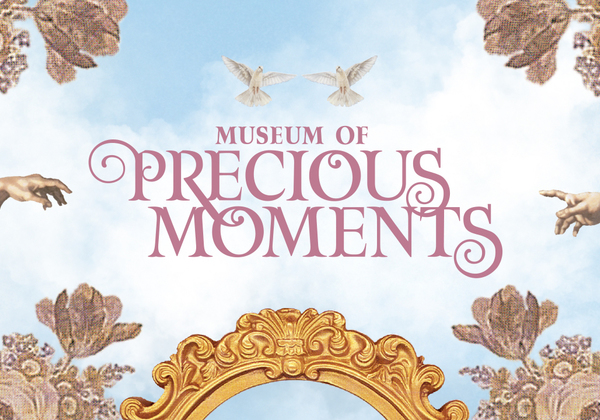 The Museum of Precious Moments
Cost and Admission
This is a paid event.
$1.00
General Admission

Pay what you think this experience is worth from $1 to $20. Select the day and time that you wish to visit. Then select the amount you wish to pay and the quantity you wish to purchase.

$8.00
VIP Experience

This reserves the entire 30-minute time slot for you and your group.

$0.00
Biola Students, Faculty and Staff

A ticket is not required.
Biola University will host a new pop up museum titled "The Museum of Precious Moments" starting this month. Developed and created by art students, the highly interactive exhibit will showcase various elements of Christian nostalgia as well as providing unique photo opportunities and interactive features.
Incorporating familiar and iconic aspects of Christian culture, the exhibit is an opportunity to look back and reminisce about shared childhood experiences. The exhibit will include pieces such as the Eden Superbloom, a flower display on the lawn outside the museum, a family living room, a youth fellowship room, a coloring wall featuring favorite Bible cartoon characters, and more.
The Museum of Precious Moments takes a playful look at the wide variety of kitschy, collectible, consumable, cultural accoutrements that often accompanies Christians' experience growing up in the church. The unique pop-up experience presents a series of immersive spaces that embrace the quirky and peculiar treasures of personal histories — drawing on this deep well of inspiration to offer striking new encounters within the familiar — evoking a sense of nostalgia and re-kindling shared memories. As visitors frolic through these precious moments in childlike reverie, the museum creators encourage them to reconnect with their own memories and share their stories with others both online and in real life.
See previews of the pop-up exhibit online using the hashtag #BiolaPreciousMoments.
The exhibit will open for the media on Feb 15, and be available for prospective students to enjoy on Spring Preview Day, Feb 16. The official opening for the exhibit is Monday, Feb 17 and will run through March 13 in the Earl and Virginia Green Art Gallery on campus.
Questions?
Contact University Events at:
(562) 777-4065
events@biola.edu