Receive up to $21,000 per year
As part of our commitment to affordability, Biola is offering you our largest scholarships ever. This year, every newly admitted undergraduate student gets an academic scholarship of up to $21,000 — just for successfully making it into Biola!
How to Qualify
Biola awards every newly admitted undergraduate student up to $21,000 per year (and at least $12,000 per year) in academic scholarships — just for successfully getting accepted to the university. That's up to $84,000 over four years! And that doesn't include other forms of financial aid available to you, such as other scholarships and government grants.
To be eligible, submit your traditional undergraduate application for Fall 2022. Online bachelor's and graduate applications are not eligible.
More Financial Aid Opportunities
Don't take our "sticker price" at face value! Between additional scholarships, grants and loans, there are so many ways we can support you in affording your education. Try using our Net Price Calculator to get an estimate of your actual costs.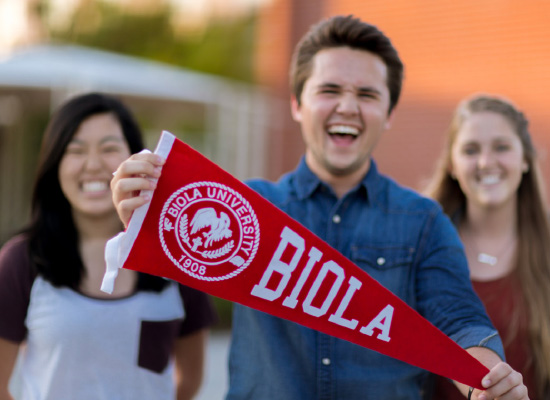 Previous Giveaways
Free Tuition for Four Years
What's better than attending Biola? Attending Biola for free! One winner received a four-year full-tuition scholarship to Biola. That's right: This student gets to earn a degree from one of the nation's premier Christian universities without paying a dime for tuition!
Disneyland Passes
Just 10 miles from Biola's campus, Disneyland is a home away from home for many Biola students. Two winners will each receive two "Believe Key" passes, giving you and a friend a year of free access to the world's "happiest place."
California Explorer Annual Passes
With this pass, you can access some of Southern California's best beaches, like Huntington State Beach, Crystal Cove and San Onofre, for free — without having to pay the state parking fee. Bonfires with friends, scenic hikes and surf sessions are in your future.
Explorer Scholarship
Submit your application between December 2, 2021 and March 15, 2022 for the Fall 2022 semester, and eligible students will be guaranteed an additional one-time $2,000 scholarship. That's on top of our largest-ever academic scholarships of up to $21,000 per year.