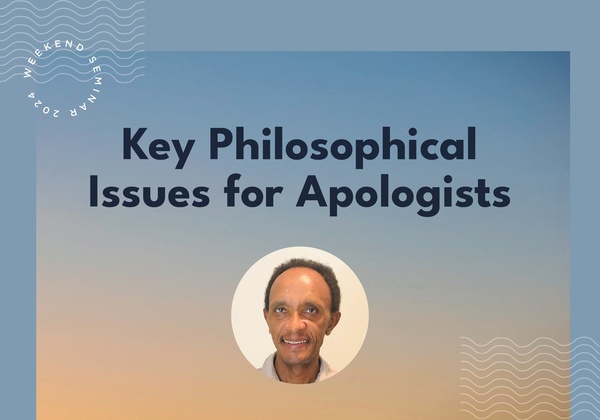 Key Philosophical Issues for Apologists with Dr. Mihretu Guta
Apologetics Weekend Seminar
Cost and Admission
This is a paid event.
| | |
| --- | --- |
| $95.00 | General Attendee |
| $65.00 | Student/Alumni |
Join us for an exciting two-day weekend seminar on "Key Philosophical Issues for Apologists" to explore the philosophical questions that arise in apologetics. These questions concern the metaphysical, theological, and scientific grounds of the nature of gender and gender identity, human identity in the age of transhumanism, and artificial intelligence with implications for contemporary culture taken broadly.
This seminar will be taught by Dr. Mihretu P. Guta, Adjunct Professor of Philosophy at Biola University. Guta completed his PhD in Philosophy at Durham University, UK under the supervision of Professor E. J. Lowe and Professor Sophie Gibb. Guta subsequently worked as Postdoctoral Research Fellow within the Durham Emergence Project (funded by the John Templeton Foundation), where he researched the nature of the emergence of consciousness from the standpoint of metaphysics, philosophy of mind, neuroscience, and quantum physics. Guta also received professional academic certificates in neuroscience from Cambridge University and Harvard University. Guta gave public lectures/academic papers more than ninety times in the USA, Europe, and Africa. Guta's publications include- Consciousness and the Ontology of Properties by Routledge (2018). 'Insights into the first-person perspective and the self: An interdisciplinary approach', Special Issue, Journal of Consciousness Studies, edited with Sophie Gibb, 11–12 (2015); Selfhood, Autism and Thought Insertion (with Sophie Gibb, 2021), 'Consciousness, First-Person Perspective and Neuroimaging', Journal of Consciousness Studies, 11–12 (2015): 218–45; Taking Persons Seriously: Where Philosophy and Bioethics Intersect by Pickwick Publication (with Scott Rae, forthcoming) and Metaphysics and Philosophical Theology by Routledge (forthcoming). Guta is also working on a manuscript entitled: The Metaphysics of Substance and Personhood: A Non-Theory-Laden Approach.
Schedule:
Friday, February 16th from 9 a.m. to 5 p.m.
Saturday, February 17th from 9 a.m. to 5 p.m.
This seminar will not be live-streamed to the general public or to students not enrolled in the course.

Please note that this is not a conference but a two-day lecture/seminar open to the public.
Questions?
Contact Megan Clark at:
562.906.4570
conference.coordinator@biola.edu