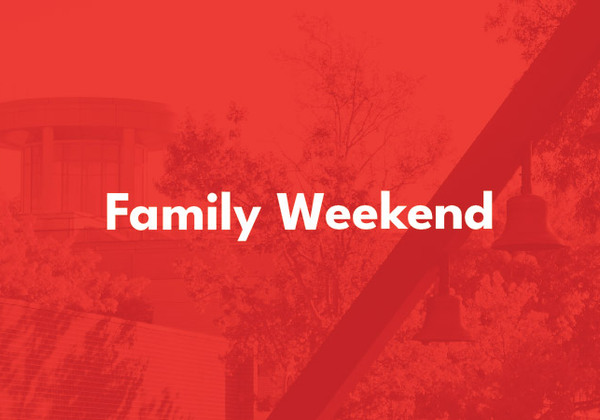 Cost and Admission
This event is free to attend.
One and a half fun filled days for Biola students and their families and supporters!
This event is FREE and no registration is required with the exception of the catered meals (Friday dinner and Saturday lunch) as well as a handful of activities. Ticket sales/registration will close October 22nd.
Friday
9:30-10:15 a.m. Chapel
Attend our weekly interview-style chapel featuring Biblically grounded conversations on culturally relevant issues
10:30 a.m. - 4:30 p.m. No scheduled events
Ideas to create your own experience::
Visit your student's classes

Visit local shops or take your student grocery shopping

Play a round of frisbee golf at La Mirada Regional Park

Explore Downtown Fullerton or Uptown Whittier

Irvine Regional Park and Zoo

Parking: $5

Zoo Entry: $2 ($5 parking, $2 zoo entry)

Pumpkin Patch (Free with paid/ticketed activities available)

OPEN 7 DAYS A WEEK (weather permitting)
September 16 – October 31, 2023
Weekdays 10:00 a.m. – 5:00 p.m.
Weekends 8:00 a.m. – 6:00 p.m.
4:30 - 6:30 p.m. Dinner on the Lawn
Enjoy a picnic-style dinner on the lawn with other Biola families(bring your own blanket and/or chair). You can view the menu here.
Purchase tickets online or at the door. Please note: Biola students do not need a ticket for this dinner and can use their ID card/meal plan.
7:00 - 9:00 p.m. Punk n Pie Talent show
Watch Biola students show off their skills at our annual talent show and enjoy
free pumpkin pie after the show. Pro tip: Bring your own blankets or chairs to enjoy the show.
Saturday
9 a.m. Donuts with the Deans
Mayers Auditorium
Enjoy donuts and coffee with the deans of Biola's schools. You can learn more about the vision for Biola's faith-integrated approach to higher education and vocational preparation for students
10:30 - 11:30 a.m. Activity Options:
Art and Architecture Tour
Tour will start at the Fluor Fountain
Experience a one-of-a-kind tour of campus in which you will get to dive deep into the miracle stories and symbolism behind beloved buildings and art pieces. No registration required.
Workshop: Self Defense 101 with Campus Safety
Andrews Banquet Room in Talbot East
Learn the basics of self-defense from our beloved Campus Safety officers. Females only. Workout attire is recommended. Registration required, spaces are limited. This event is currently sold out. Please email parents@biola.edu to be put on the waitlist.
10:45 a.m. - 12 p.m. Holy Spirit Symposium: Faculty Fellows Panel
Calvary Chapel
Enjoy a portion of the Holy Spirit Symposium that's happening this weekend by attending this free panel featuring the following Biola faculty fellows:
Carmen Imes, Ph.D.

Leon Harris, Ph.D.

Helen Mitchell, M.A.

Richard Gunaskera, Ph.D.

James Johansen, Ph.D.
This session is FREE to attend but registration is required.
11:30 a.m. - 1 p.m. Lunch with the President
Tent on Lot F

Listen to a special message from President Corey and enjoy a performance from Biola's Gospel Choir, all while experiencing tastes and delights from around the world (view menu here- GF options will be available). Registration is required, $15/person (students cannot use their meal plans for this event). Space is limited and will sell out so don't sleep on this special meal!
1:30 - 2:30 p.m. Activity Options:

Family Communication Strategies with the Muehlhoffs
Calvary Chapel
Join Communications professor, Dr. Timothy Muehlhoff and his son, Jeremy ('20), a current Admissions Counselor, as they discuss communication across generations.
CMA Student "Shorts" Screening
Mayers Auditorium
Enjoy an exclusive screening from our Cinema of Media & Arts department

3:00 p.m. Family Kickball Game
Mcnally Lawn
Enjoy some friendly competition with other Biola families over a classic game of kickball led by special guest team captains. Cost: $5 per person to participate but all are welcome to watch and cheer without registering! Registration is required.
3:00 p.m. Volleyball Game vs. Hawaii Hilo
Chase Gymnasium
Biola students, staff, faculty, and alumni are free with their Biola ID card. General admission is $10. Tickets sold at biola.edu/tickets

7:30 p.m. 31st Annual PRISM Concert
Crowell Conservatory of Music
Created in 1992, the annual PRISM Concert offers ensembles large and small, as well as student soloists –– uniting in a program that demonstrates musical and artistic excellence and great spirit. Cost: $18 per family member, $8 for Biola students
Questions?
Contact Family Engagement at:
(562) 906-4535
parents@biola.edu