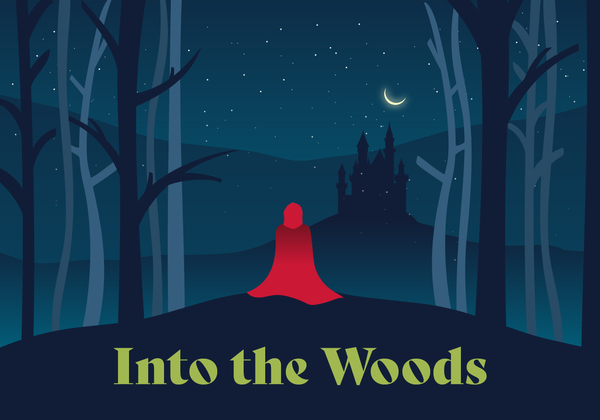 Into the Woods
Presented by Biola Opera & Theatre
Thursday, January 26, 2023
7:30–10 p.m. Pacific

Friday, January 27, 2023
7:30–10 p.m. Pacific

Saturday, January 28, 2023
2:30–5 p.m. Pacific

Saturday, January 28, 2023
7:30–10 p.m. Pacific

Sunday, January 29, 2023
2:30–5 p.m. Pacific

Crowell Music Bldg. - Lansing Recital Hall

Open to: Alumni, Faculty, General Public, Parents, Staff, Students
Cost and Admission
This is a paid event.
| | |
| --- | --- |
| $20.00 | General Admission |
| $15.00 | Biola Faculty/Staff/Students |
| $15.00 | Senior Citizens/Military |
| $15.00 | Groups (6+) |
James Lapine and Stephen Sondheim bring our favorite storybook characters from the Brothers Grimm and bring them together in an epic fairytale about wishes, family and the choices we make. Into the Woods follows a Baker and his wife, who wish to have a child; Cinderella, who wishes to attend the King's Festival; and Jack, who wishes his cow would give milk. When the Baker and his wife learn that they cannot have a child because of a Witch's curse, the two set off on a journey to break the curse. Everyone's wish is granted, but the consequences of their actions return to haunt them later with disastrous results.
Parental Guidance Suggested: This show contains material that parents may find unsuitable for younger children.
This show contains the following content: depictions of murder; depictions of pregnancy and/or childbirth; loud or startling noise; some suggestive dialogue; theatrical fog effects; mild fantasy violence or comedic violence.
No tickets will be sold once a performance is sold out.
Parking closest to Crowell Music Building is located in Structures R or S.

Questions?
Contact Conservatory of Music at:
562-903-4892
music@biola.edu
More from Conservatory of Music Concert Series