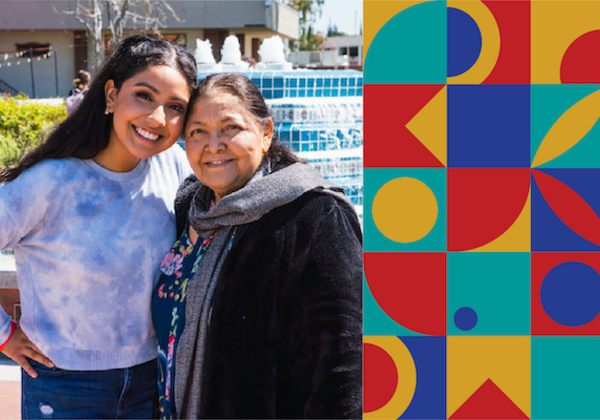 Grandparents Day 2023
Friday, March 17, 2023
8 a.m.–3 p.m. Pacific

Fluor Fountain
Hosted By: Family Engagement

Open to: Parents, Students
Join us from 8:00 a.m.–2:30 p.m. at the Fluor Fountain.

Information Booth

Photo booth

Card writing station

Lawn Games

Scheduled Activities

8:00 a.m. - 9:15 a.m. Check-in and Continental Breakfast (no program, open house style), included with with registration

9:30–10:20 a.m. Chapel

Start your morning off as we worship and open God's word together.

10:30-12 Optional Class Visits

Open class options include:

History of Western Art II: Baroque through Modernism

BTI: Life & Letters of Paul

The Rhetorical Act

History of Cinema

Virtue, Citizenship, and Politics

Studies in Major Authors: Shakespearean Literature & Film

Psychology of Marriage
10:30 Trivia Time

Test your trivia knowledge against your grandchild's in this fun generation vs. generation battle of the minds!

12 p.m–1:00 p.m. Lunch with President Corey - included in registration

All guests will enjoy an all you can eat buffet, a performance from our Conservatory of Music and a special address from President Corey

1:30 p.m.–2:30 p.m. Campus Tours

Get acquainted with our campus on either a walking or cart driven tour led by our Student Ambassadors.
*sign ups will be at check-in, cart space sign ups will be available on first come, first served basis
Please note, Grandparents Day is a special day for students and their grandparents or grand-relatives. Additional guests will be admitted if you require mobility assistance. Currently, we are unable to provide wheelchairs for guests, please plan to bring your own wheelchair or motor scooter if you require mobility assistance. We will offer golf cart shuttles to event locations around campus for the duration of the day.
Arriving On Campus
Please make sure you check-in at the gate house when you arrive on campus. You will be directed to park in the Lot S parking structure. Attire for the day is casual. We suggest you come prepared with a jacket as mornings can be chilly, and good walking shoes to ensure comfortability as you make your way around campus.
Traveling From a Distance?
Local Airports
Long Beach Airport (LBG) - 15 miles
John Wayne Airport, Orange County (SNA) - 24 miles
Los Angeles International Airport (LAX) - 27 miles
Burbank Airport (BUR) - 32 miles
Ontario Airport (ONT) - 33 miles
Questions?
Contact Veronica Sansonetti at:
562 906 4535
parents@biola.edu