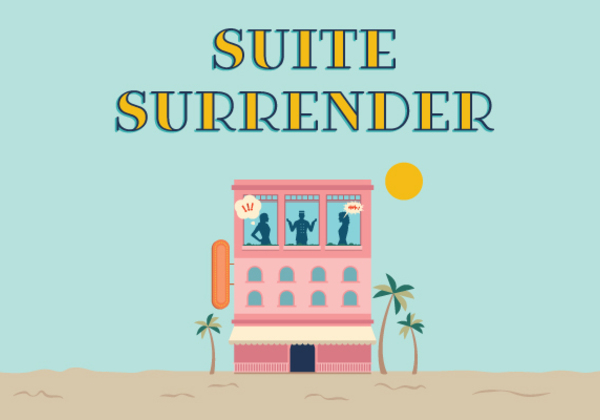 Suite Surrender
A Main Stage Production by Michael McKeever
Friday, November 11, 2022
7:30–9 p.m. Pacific

Saturday, November 12, 2022
2:30–4 p.m. Pacific

Saturday, November 12, 2022
7:30–9 p.m. Pacific

Sunday, November 13, 2022
2:30–4 p.m. Pacific

Thursday, November 17, 2022
7:30–9 p.m. Pacific

Friday, November 18, 2022
7:30–9 p.m. Pacific

Saturday, November 19, 2022
2:30–4 p.m. Pacific

Saturday, November 19, 2022
7:30–9 p.m. Pacific

Sunday, November 20, 2022
2:30–4 p.m. Pacific

Open to: Alumni, Faculty, General Public, Parents, Staff, Students
Synopsis
It's 1942, and two of Hollywood's biggest divas have descended upon the luxurious Palm Beach Royale Hotel -- assistants, luggage, and, a legendary feud with one another in tow. Everything seems to be in order for their wartime performance...that is, until they are somehow assigned to the same suite. Mistaken identities, overblown egos, double entendres, and a lap dog named Mr. Boodles, round out this hilarious riot of a love note to the classic farces of the 30s and 40s.
Commentary
"A rib-tickling good time." Hap Erstein, Palm Beach Post
"Hilarity in every scene." Al Price, Palm Beach Jewish Journal
"A fun fast-paced play, perfectly fitted with puns and punch lines. Thunderous applause." Badische Neueste Nachrichten
"Delicious fun." Hildesheimer Allgemeine Zeitung
"Suite Surrender is pure enjoyment." Ron Levitt, Florida Media News

Questions?
Contact Conservatory of Music at:
562-903-4892
music@biola.edu
More from Conservatory of Music Concert Series