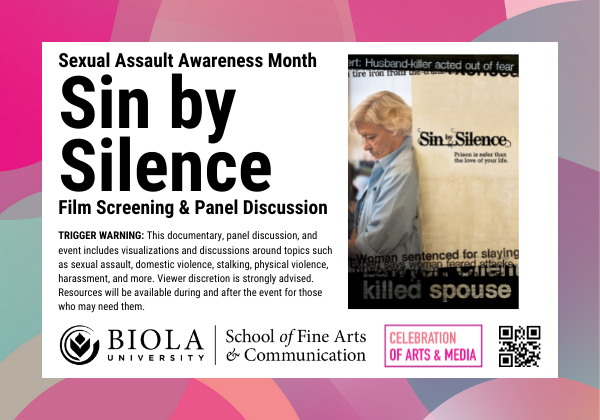 Sin by Silence Film Screening and Panel Discussion
Award-winning documentary and visit by the Director and cast
Cost and Admission
This event is free to attend.
$0.00
Reserve Your Seat (free)

Though it is free, a ticket is required to attend this event.
During Sexual Assault Awareness month, this event brings to campus Sin by Silence film director, Olivia Klaus, as we engage in a meaningful conversation around what it means to survive abuse.
From behind prison walls, SIN BY SILENCE reveals the lives of extraordinary women who advocate for a future free from domestic violence. // Inside California's oldest women's prisons, the first inmate-initiated and led group in the U.S. prison system was created by inmate Brenda Clubine to help abused women speak out and realize they are not alone. Over the past two decades, the women of CWAA, Convicted Women Against Abuse, have changed laws for battered women and raised awareness for those on the outside. // SIN BY SILENCE is an emotionally packed documentary that tells the personal and shocking stories of these courageous women who have learned from their past, are changing their future, and most importantly, teach us how domestic violence affects each and every person.
Warning. Disturbing Content: This documentary, panel discussion and event includes material, visualizations and discussions around topics such as sexual assault, domestic violence, stalking, physical violence, harassment, and more. Viewer discretion is strongly advised. Resources will be available during and after the event for those who may need them.
COVID-19 Health and Safety Information: The health and safety of all our guests and those participating are paramount during this public health crisis. We will be following all local, county and state COVID-19 health protocols.
Please visit the LA Public Health Website for current health protocols for LA County.
Questions?
Contact School of Fine Arts and Communication at:
(562) 944-0351 ext.5444
michael.matchell@biola.edu