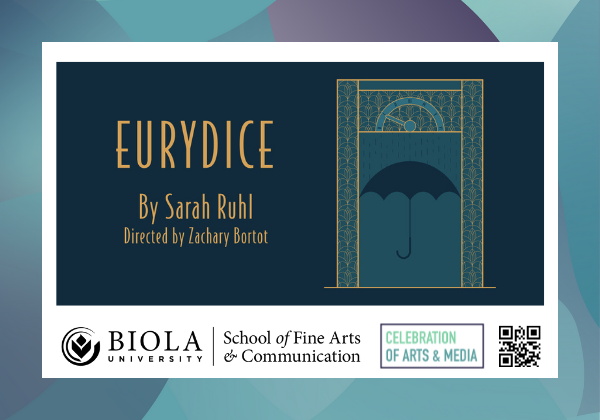 Eurydice
a Main Stage Theatre production by Sarah Ruhl and Directed by Zachary Bortot
Friday, April 1, 2022
7:30–9:30 p.m. Pacific

Saturday, April 2, 2022
7:30–9:30 p.m. Pacific

Sunday, April 3, 2022
2:30–4:30 p.m. Pacific

Thursday, April 7, 2022
7:30–9:30 p.m. Pacific

Friday, April 8, 2022
7:30–9:30 p.m. Pacific

Saturday, April 9, 2022
7:30–9:30 p.m. Pacific

Sunday, April 10, 2022
2:30–4:30 p.m. Pacific

Theatre21 at Biola University

Open to: Alumni, Faculty, General Public, Parents, Staff, Students
Synopsis
In Eurydice, Sarah Ruhl reimagines the classic myth of Orpheus through the eyes of its heroine. Dying too young on her wedding day, Eurydice must journey to the underworld, where she reunites with her father and struggles to remember her lost love. With contemporary characters, ingenious plot twists, and breathtaking visual effects, the play is a fresh look at a timeless love story.
Commentary
"Rhapsodically beautiful. A weird and wonderful new play - an inexpressibly moving theatrical fable about love, loss and the pleasures and pains of memory." - The New York Times

Content Advisory

The play contains mature adult themes regarding love and loss. Parental discretion is advised for younger audiences.

COVID-19 Health and Safety Information
The health and safety of all our guests and those participating are paramount during this public health crisis. We will be following all local, county and state COVID-19 health protocols.
Please visit the LA Public Health Website for current health protocols for LA County.
Questions?
Contact Conservatory of Music at:
(562) 903-4892
music@biola.edu