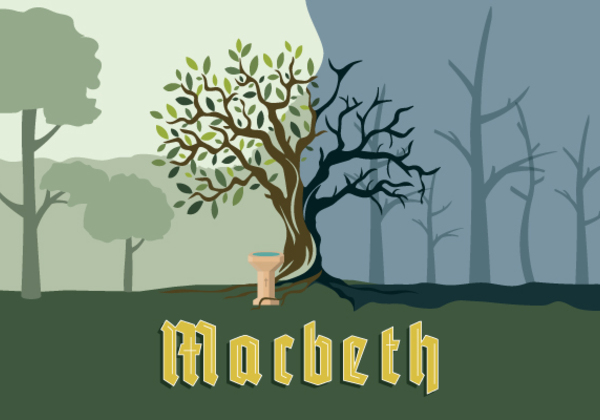 Macbeth
A Second Stage Theatre production by William Shakespeare and Directed by student, Bradley Plausse.
Friday, October 21, 2022
7:30–9 p.m. Pacific

Saturday, October 22, 2022
2:30–4 p.m. Pacific

Saturday, October 22, 2022
7:30–9 p.m. Pacific

Sunday, October 23, 2022
2:30–4 p.m. Pacific

Marshburn - Mayers Auditorium

Open to: Alumni, Faculty, General Public, Parents, Staff, Students
Synopsis
Set in medieval Scotland and partly based on a true historical account, Shakespeare's Macbeth follows the bloody rise to power and subsequent downfall of the Thane of Glamis. Already a successful soldier in the army of King Duncan, Macbeth is informed by Three Witches that he will become Thane of Cawdor and then King of Scotland. Prepared to wait for Fate to take its course, Macbeth is goaded into murderous action by Lady Macbeth when King Duncan nominates his son Malcolm as his heir. What follows is a bloody reign of terror fueled by selfish ambition.

Commentary
"Macbeth is the most instantly accessible of Shakespeare's tragedies: violent, elemental, familiar, short. No matter which way the story is bent, it maintains its recognizable human core of ambition and regret." - New York Times

COVID-19 Health and Safety Information

The health and safety of all our guests and those participating are paramount during this public health crisis. We will be following all local, county and state COVID-19 health protocols.
Please visit the LA Public Health Website for current health protocols for LA County.
Questions?
Contact Conservatory of Music at:
562-903-4892
music@biola.edu