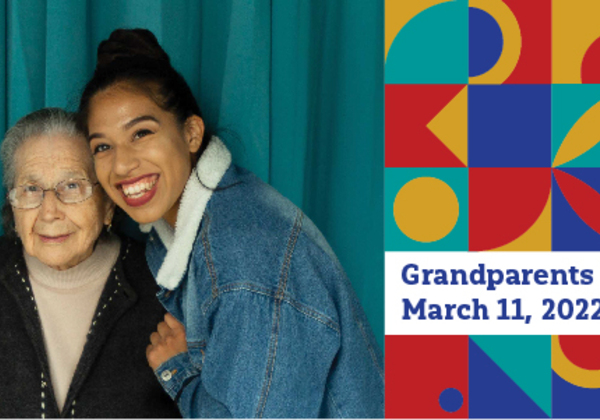 Grandparents Day!
Celebrating grandparents of Biola students!
Friday, March 11, 2022
8 a.m.–2:30 p.m. Pacific

Metzger Lawn, Various
Hosted By: Family Engagement

Open to: Parents, Students
Cost and Admission
This event is free to attend.
Biola invites you to our annual Grandparents Day. We've curated events that are fun and offer intentional time for you to spend with your grandchild. We hope you will join us on Friday, March 11, 2022.
Registration closes on March 4.
Scheduled Activities
8 a.m. Breakfast with the President *registration required* | Kim Banquet Room
9:30–10:20 a.m. Chapel with Dr. Todd Pickett | Sutherland Hall
10:30–1:20 p.m. Class Observation (come and go as you need to)

Option 1: History of Cinema
Option 2: Life & Letters of Paul
Option 3: Interpersonal & Cross Cultural Relationships in Christian Ministries

12 –1 p.m. Lunch and Listen *registration required* | Tent on Lot F
1 –2 p.m. Campus Tours
An information booth, photo booth, card writing station and lawn games are available all day from 8 a.m.–2:30 p.m. on Metzger Lawn

Contact Stephanie Ramirez in the Office of Family Engagement at (562) 906-4535 or parents@biola.edu with questions.
Please note, Grandparents Day is a special day for students and their grandparents or grand-relatives. Additional guests will be admitted if you require mobility assistance. Currently, we are unable to provide wheelchairs for guests, please plan to bring your own wheelchair or motor scooter if you require mobility assistance. We will offer golf cart shuttles to event locations around campus for the duration of the day.
Arriving On Campus
Please make sure you check in at the gate house when you arrive on campus. You will be directed to park in the Lot S parking structure. Attire for the day is casual. We suggest you come prepared with a jacket as mornings can be chilly, and good walking shoes to ensure comfortability as you make your way around campus.

Your safety is very important to us. In accordance with L.A. County Covid guidelines, Biola is requiring all guests, regardless of vaccination status, to wear medical grade masks — surgical, N95 and KN95 while indoors. We will have a limited supply on-hand should you need one.
Questions?
Contact Stephanie Ramirez at:
(562) 906-4535
parents@biola.edu