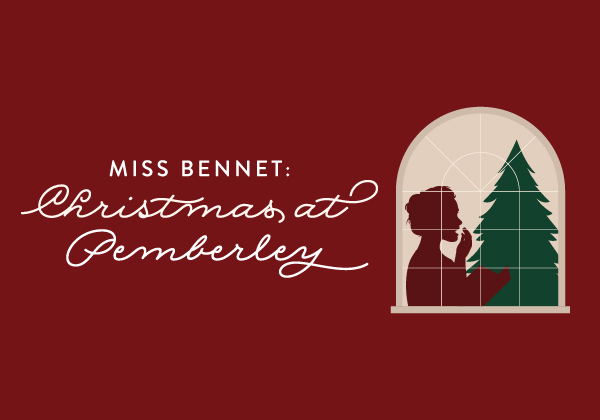 Miss Bennet: Christmas at Pemberley — Sold Out
By Lauren Gunderson and Margot Melcon
Friday, November 19, 2021
7:30–9:30 p.m. Pacific

Saturday, November 20, 2021
7:30–9:30 p.m. Pacific

Sunday, November 21, 2021
2:30–4:30 p.m. Pacific

Thursday, December 2, 2021
7:30–9:30 p.m. Pacific

Friday, December 3, 2021
7:30–9:30 p.m. Pacific

Saturday, December 4, 2021
7:30–9:30 p.m. Pacific

Sunday, December 5, 2021
2:30–4:30 p.m. Pacific

Open to: Alumni, Faculty, General Public, Parents, Staff, Students
Cost and Admission
This is a paid event.
Due to high demand, this production is now sold out. If you did not get a ticket this time, we hope you will consider joining us for our future spring 2022 productions.
A sequel to Jane Austen's Pride and Prejudice set two years after the novel ends, Miss Bennet continues the story, only this time with bookish middle-sister Mary as its unlikely heroine. Mary is growing tired of her role as a dutiful middle sister in the face of her siblings' romantic escapades. When the family gathers for Christmas at Pemberley, an unexpected guest sparks Mary's hopes for independence, an intellectual match, and possibly even love.
"Droll and delicious, MISS BENNET is a charming, confectionary celebration of fan favorite characters from Pride and Prejudice, multi-generationally honoring the legacy of Jane Austen's humor, playfulness and wit in a warm-spirited holiday theatrical production." —DCMetroTheaterArts.com.
"…a perfectly constructed love story…Given its fizzy comedy, sweet spirit and clean structure, [MISS BENNET] seems destined to populate future holiday seasons…" —San Francisco Chronicle.
"…an unstuffy, highly entertaining and warm-spirited work, the kind of thing multiple generations can enjoy together." —Chicago Tribune.
COVID-19 Health and Safety Information: The health and safety of all our guests and those participating are paramount during this public health crisis. We will be following all local, county and state COVID-19 health protocols. All participants are currently required to wear face coverings at all times while indoors regardless of vaccination status.
Please visit the LA Public Health Website for current health protocols for LA County.
Questions?
Contact Conservatory of Music at:
(562) 903-4892
music@biola.edu