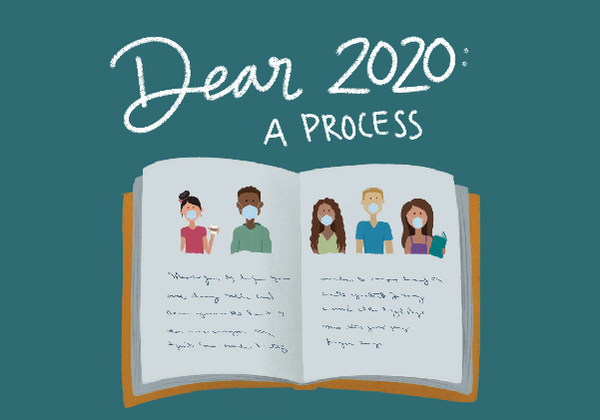 Dear 2020: A Process
a Second Stage theatre production by Rory Slater and Biola Acting Students
Friday, October 29, 2021
7:30–9:30 p.m. Pacific

Saturday, October 30, 2021
2:30–4:30 p.m. Pacific

Saturday, October 30, 2021
7:30–9:30 p.m. Pacific

Sunday, October 31, 2021
2:30–4:30 p.m. Pacific

Marshburn - Mayers Auditorium
Hosted By: Alpha Psi Omega (Theatre Club), Conservatory of Music, School of Fine Arts and Communication, Theatre 21

Open to: Alumni, Faculty, General Public, Parents, Staff, Students
COVID-19 has been an unprecedented time for our nation and collectively the world. Beyond the realities of living in and (one-day) through a pandemic are the even harsher realities of what it has done to us as a people: emotionally, socially, psychologically, and spiritually. Dr. Sajnani of NYU, in a recent interview "Teaching Theatre Online: Trauma-Informed Pedagogy," shared when we are under trauma, the first thing to go is our ability to imagine, to play. Alumna and Director Rory Slater will take the work of Rhodessa Jones and her Medea project as a launching pad for this devised piece of theatre, allowing participants to take part in a process of healing and rebirth.
COVID-19 Health and Safety Information: The health and safety of all our guests and those participating are paramount during this public health crisis. We will be following all local, county and state COVID-19 health protocols. All participants are currently required to wear face coverings at all times while indoors regardless of vaccination status. Please visit the LA Public Health Website for current health protocols for LA County.
Content Advisory: This production was created through a process in which students shared with one another personal stories from 2020. There is a variety of subject matter that is portrayed dramatically, drawing upon strong and authentic emotions as students reflect upon their own real experiences of racism, loss of loved ones and isolation during the pandemic. It is possible that if these stories mirror your own, they may have a retraumatizating effect. Viewer discretion is advised. A talkback session will be held after each performance, with a therapist from the Biola Counseling Center present. We will also have resources available for those who may wish to take steps toward counseling.
Questions?
Contact Conservatory of Music at:
(562) 903-4892
music@biola.edu