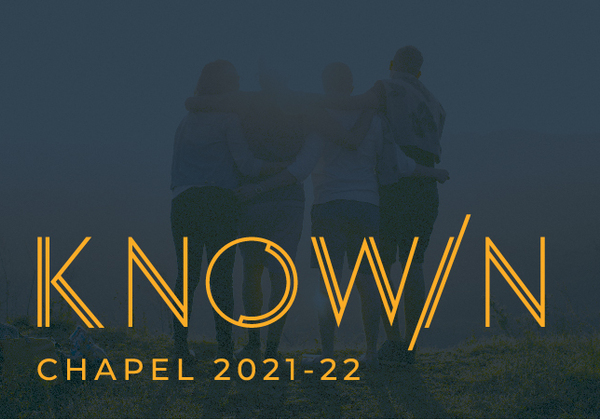 Monday Know/n: The World, Your Mind, and God: Reconstructing your motivational self to be in the world, but not of the world.
Luciano Cid
Monday, September 13, 2021
9:30–10:20 a.m. Pacific

Sutherland Auditorium
Hosted By: Spiritual Development

Open to: Alumni, Faculty, General Public, Parents, Staff, Students
Cost and Admission
This event is free to attend.
What motivates you from day to day? Have you thought about it deeply? What drives you to move, to live, to act, to react, to learn, to worship, etc.? Motivational forces are critical to the life of every human being, yet very few of us stop to reflect upon them? This chapel will invite its audience to investigate these questions by juxtaposing a well known humanistic model of motivational theory (i.e, Maslow's Hierarchy of Needs) with Jesus' example of motivational forces found in Luke 4:1-13. Thus, presenting a practical approach of what the world and God know about you, and how your reaction to it can either control or free your soul.
Speakers
Luciano Cid
Luciano Cid grew up in Argentina until he was thirteen years of age. It was then when his parents made the complex decision to immigrate to the United States in search of a better life for their children. At the beginning, Dr. Cid struggled both socially and academically, which was something he had never experienced before. With time, he began to be able to communicate using his second language (English), which assisted him in acclimating to his new surroundings. As this occurred, he became more socially and academically capable. Nevertheless, Dr. Cid never forgot the emotional and academic difficulties that he experienced during his adjustment period in his new country. Consequently, after completing his double major in philosophy and religious studies at the California State University of Fullerton, he entered a teaching credential program at Chapman University. During his time at Chapman, Dr. Cid investigated the emotional and academic potential that low income and immigrant students could gain if a teacher were to make him/herself emotionally available to their needs. It was also at Chapman when Dr. Cid was introduced to the interconnection between neuroscience, psychology and education, which led him to want to explore more about these subjects. This desire led Dr. Cid to receive an Ed.M from the Harvard Graduate School of Education in the burgeoning interdisciplinary field of Mind, Brain and Education (MBE). He now serves as the chair of the Brain, Neuroscience, and Education special interest group for the American Education Research Association (AERA). He also holds a doctorate degree from USC in the fields of educational leadership and educational psychology. Dr. Cid co-chairs the Liberal Studies Program and regularly teaches classes in educational psychology. But, what he is most proud and thankful for is being called a son of the almighty God.
Questions?
Contact:
(562) 903-4874
chapel@biola.edu