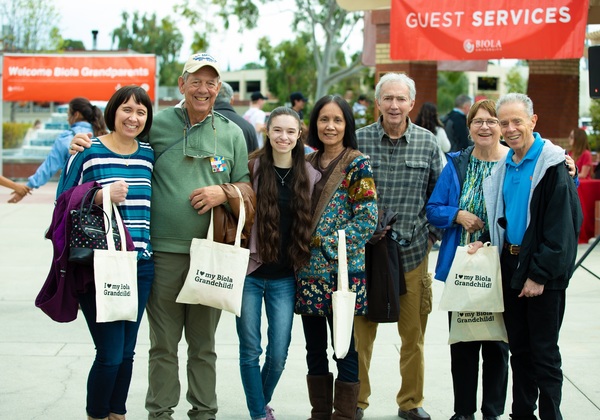 Grandparents, this event is just for you! Please join us for a fun-filled and memorable day on campus with your grandchild and current Biola student. During your visit you will get to experience a day in the life of a student by attending chapel, hearing from faculty, and much more! Look how much fun we had last year!

Open All Day (8:00 a.m.–2 p.m.)
Information Booth
Photo booth
Letter writing station
Lawn Games
Biola Bingo

Morning Activities

8 a.m. Class Observation: The Pentateuch
Crowell School of Business 109
A close examination of the message and narrative of the Pentateuch, the first five books of the Bible and the center of all of the world's theistic religions, to ascertain how these biblical books contribute to the foundation of all Christian theology

8:30–9 a.m. Get Fit While You Sit
Café Banquet Room
Get your blood flowing without breaking a sweat or getting out of your seat. This half-hour seminar will be full of fun exercises you can take home with you!
9:30–10:20 a.m. Chapel
Sutherland Hall
One thing that college students and their grandparents have in common is fear -- because fear is something everyone has in common. We are afraid -- or, if we are not afraid, we have been afraid, and we know the force of Jesus' command to 'be not afraid.' Dr. Matt Jenson will share in chapel about the reality of fear and how we might listen to the voice of the Good Shepherd in the face of fear.
10:30–11:45 a.m. Class Observation Option 1: Psychology of Learning and Development
Mayers Auditorium
"Psychology of Learning and Development" seeks to help equip our future church leaders to understand how God designed us to develop emotionally, cognitively and spiritually so that we can minister and teach God's Word in an age-appropriate manner. This class lecture will focus on "Ministering to Teenagers: Seeking to Understand the Challenges of Adolescence (from middle school through college-age)."
10:30-11:45 a.m. Class Observation Option 2: Theology II
Crowell School of Business 109
This course focuses on the biblical doctrines of Salvation, the Holy Spirit, the Church, and the Last Things, with reference to the history and development of Christian theology. This course follows the method of systematic theology to organize what can be known about these topics by the study of the most relevant biblical revelation, listening to the church's understanding across time and cultures, including relevant understanding from the sciences, and reflecting on the value of this truth for daily life as a Christian.
Noon–1 p.m. Lunch and Concert on the Lawn *Registration required for guests and students*
Metzger Lawn
After a full day of activities and classes, come to a relaxing, restful and delicious buffet lunch all while enjoying beautiful performances from our student music ensembles.
Noon–2 p.m. Biola Baseball vs. Point Loma
Cheer on the Biola Eagles as we compete against the Point Loma Sea Lions! No tickets needed — guests are free!
Afternoon Activities
1:30–2:30 p.m. Walking Campus Tour *Registration required*
Admissions Welcome Center, Metzger Hall
Join our student tour guides on a stroll through campus as they share their stories and show you the most iconic Biola buildings.
1:30–4:30 p.m. (come and go as you need): Torrey John Colloquium
Sutherland 200
The Torrey Colloquium is both a shortened, condensed form of what we do in Torrey and a heightened, expanded form of a normal Torrey class. Today's discussion will focus on the upper room discourse in John chapters 13–17. Dr. Laurie Wilson (Torrey's scholar in classics) along with other Torrey professors will be leading the class discussion.
3–5 p.m. Biola Baseball vs. Point Loma
Join us for game two of the day as the Biola Eagles compete against Point Loma Sea Lions! No tickets needed — guests are free!

Questions?
Contact Stephanie Ramirez at:
(562) 906-4535
parents@biola.edu