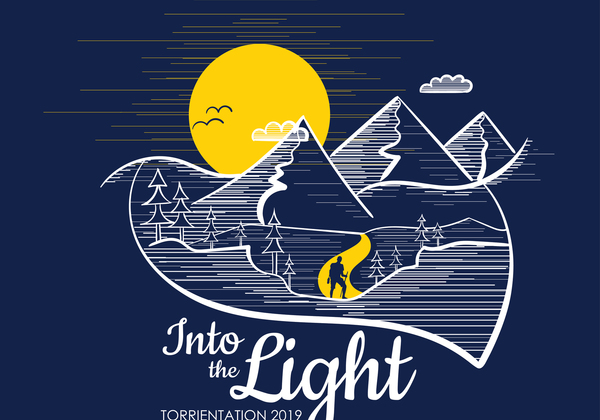 Torrientation 2019
Biola University

Open to: Students
Torrey Honors is proud to welcome its incoming class of 2023. During this orientation, students will meet their cohorts, their mentors, and prepare for their four-year honors education.
Sunday August 25th - Thursday August 29th
Biola University

Registration will require you to login with your @biola.edu email account. Please let us know if you have any trouble registering.
Students who will be attending the Torrey Honors Institute in the Fall of 2019 are required to attend the Torrey Honors orientation ("Torrientation"). During the week incoming students will meet their cohort groups, hear from the Torrey Honors faculty, and learn everything they need to know to succeed in the program. Students must register for Torrientation at the link to the right. In order to keep up with the announcements about Torrientation, be sure to check your Biola email account regularly.

Please note that the registration fee is your "freshmen year fee" and will automatically be applied to your student account. This one-time fee covers the cost of Torrientation and your two mandatory Freshmen theology seminars which will take place later in the semester.

Important Details
Early Move In: Incoming students to Torrey Honors will move in early on Sunday August 25th. There is no additional fee for early housing, and students will move into their permanent dorms. Commuting students will still need to participate in Torrientation even though they are not moving onto campus.
Meals: Although student meal plans are not active during Torrientation, we will provide all meals for students during Torrientation.
Check-in Schedule
Sunday, August 25th
As you and your family plan your arrival on campus, please use this schedule as a reference. A full schedule will be emailed to you later this summer.

1:00-5:00 pm: Check-In
Come check in with the Torrientation Staff to get your schedule and information packet. We will then take you to your dorm room!
5:15-6:00 pm: Dinner Break
You are welcome to eat dinner with your families or join our Torrientation staff, who will be eating inside the Biola Caf.
6:00-7:00 pm: Opening Ceremony
Parents and students are invited to attend our opening reception, with the Director of Torrey Honors.
7:00-8:30 pm: Meet Your Cohort
Meet the other students in your cohort, and your Torrientation group seers!
Parent Events
Parents: as an integral part of this transition we hope that you will be able to join us for one or both of the events listed below! On Sunday, August 25th you can assist with move in, see the campus, and join us for the evening as we begin the week. You're also invited to join us for our closing reception on Wednesday, August 28th, where you'll meet your student's cohort, their orientation leaders, and hear stories from the week.
Welcome to Torrey Honors & Parent Reception
Sunday, August 25th at 6:00 pm - Calvary Chapel
Torrey Honors Student & Family Reception
Wednesday, August 28th at 7:00 pm - Calvary Chapel

In addition to Torrey Honors events, Biola University offers a rich experience for parents during Parent Orientation.
Questions?
Contact Michelle Lum at:
562-906-4555
torrey.admissions@biola.edu