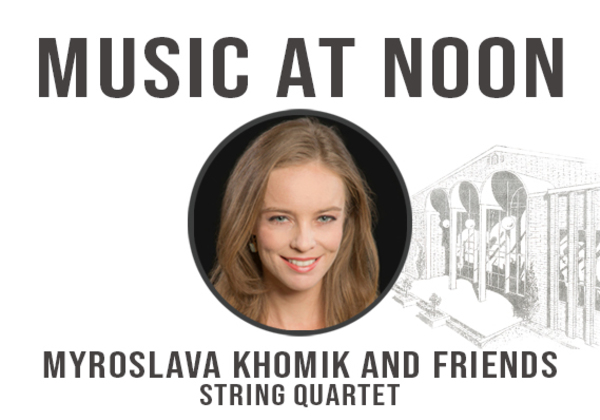 Myroslava Khomik and Friends, String Quartet
Music at Noon
Wednesday, October 2, 2019
12:30 p.m. Pacific

Crowell Music Bldg. - Lansing Recital Hall
Hosted By: Conservatory of Music

Open to: Alumni, Faculty, General Public, Parents, Staff, Students
Cost and Admission
This event is free to attend.
Ukrainian-American violinist Myroslava (Mira) Khomik is a top-prize winner of international competitions including Remember Enescu Competition in Romania, Ugzhorod Silver Bells in Ukraine, and the New Names of Ukraine. She has appeared as a soloist with orchestras in Ukraine, Spain, US, Hong Kong, Vietnam, Thailand, Japan, and her performances were broadcast on National TV and Radio in Ukraine, the US, and in Vietnam. Ms. Khomik is an avid promoter of contemporary composers, and regularly participates in premieres of new works. Most recent highlights include new premiere of the violin concerto by Ferran Sor with Orquestra de la Societat de Concerts de Barcelona, guest solo appearance and master classes at the 10mo. Festival Internacional de Musica y Musicologia in Mexico, and with the Kyiv Kamerata at the Gulfstream Festival in Ukraine, and completing a weeklong residency at UNASP in San Paolo, and at the Projeto Retreta, an outreach music program for the underprivileged children in Artur Nogueira, Brazil.
A devoted chamber music advocate, Ms. Khomik has performed alongside numerous distinguished artists at home and abroad, such as the members of the Borromeo and Jerusalem String Quartets, Robert Davidovichi, Eugene Friesen, Gloria Cheng, Guillaume Sutre, Movses Pogossian, Antonio Lysy, among others. She frequently appears in prestigious chamber music series such as Jacaranda, LACMA Sundays Live, HEAR NOW New Music Festival, NASUCA concert series in Los Angeles, and has appeared in concerts at the Incontri in Terra di Sienna Music (Italy), Academie de Musique de Lausanne (Switzerland), Aurora Music Festival (Sweden), and Zeist Music Days (Netherlands). Ms. Khomik recently received her Doctor of Musical Arts degree at the University of California, Los Angeles, where she also served as the Teaching Associate in the string department. She regularly performs with New West Symphony, Fresno Philharmonic, and Divan Consort Ensemble in Los Angeles, and is an adjunct string faculty at Fullerton College and the French Conservatory in Beverly Hills.

Become a member of Friends of the Conservatory. Join now at giving.biola.edu/music.
Questions?
Contact Music Reception at:
(562) 903-4892
music@biola.edu
Part of the collection Music at Noon Series