For information on Biola University's coronavirus (COVID-19) response and updates, visit
biola.edu/coronavirus
.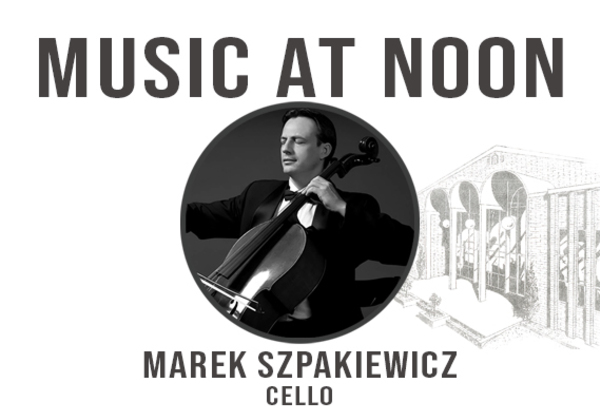 Marek Szpakiewicz, cello; Jiayi Shi, piano
Music at Noon
Wednesday, December 4, 2019
12:30 p.m.

Crowell Music Bldg. - Lansing Recital Hall
Hosted By: Conservatory of Music

Open to: Alumni, Faculty, General Public, Parents, Staff, Students
Cost and Admission
This event is free to attend.
Polish-born cellist Marek Szpakiewicz has been described by Yo-Yo Ma as an artist whose "energy, motivation, earnestness and generosity of spirit are evident through his work." Pulitzer Prize-winning composer John Corigliano stated, "(Szpakiewicz's) performance of my 'Fancy on a Bach Air' is absolutely gorgeous."
Szpakiewicz has drawn praise from critics in Europe, the United States and Japan, describing him as "a gifted player," "with expansive vision and immense authority," "no technical limitation," and "a rare performer who internalizes a profound musical world within." Polish and American radio stations have broadcasted his live performances, including the one-hour special program dedicated solely to his music on KUSC-Los Angeles, the largest non-profit classical music station in the country. Strad Magazine comments on Szpakiewicz's live recording of Ernest Bloch's Schelomo as "remarkably accurate realisation of the score."
He began cello lessons at the age of six in Lublin, Poland. In his early years, he studied with Ryszard Losakiewicz and Stanislaw Firlej. He later studied with Stephen Kates at the Peabody Conservatory. Szpakiewicz completed his doctorate degree under the tutelage of Eleonore Schoenfeld at the Thornton School of Music at the University of Southern California. He also studied with such distinguished cellists as Daniil Shafran, Lynn Harrell, and Siegfried Palm.
Szpakiewicz currently teaches cello and chamber music at Azusa Pacific University, where he serves as Director of String Studies and Chamber Music. He is also on the faculties of Idyllwild Arts Academy Summer Program and Montecito International Music Festival. His students have won top prizes at numerous international and national competitions, including International Cello Competition in Chile, the American Protégé International Piano and Strings Competition, among others. In addition, his former students have been accepted by such schools as Juilliard School, Peabody Conservatory, New England Conservatory, Manhattan School of Music, and USC Thornton School of Music.
Pianist Jiayi Shi maintains an active schedule as a chamber musician and collaborative pianist. She works extensively with the internationally renowned violinist Midori, and made her New York recital debut with Midori in March 2004. In April 2008, she also made recital appearance in London Symphony Orchestra's St Luke's Hall. In addition to numerous chamber performances, Ms. Shi often plays solo piano recitals in North America and in her native China. Her performances took her not only throughout the USA, but also to Germany, Hong Kong, as well as the Weill Recital Hall in Carnegie Center and Lincoln Center in New York City.
Soon after arriving in the United States from her native city Shanghai, China, Ms. Shi won a succession of honors and awards, including top prizes in the Sydney Wright Competition, the Steinway Society Piano Competition and the state winner of the MTNA piano competition. She has also been accepted in many prestigious music festivals, such as the Shanghai International Music Festival in China, the Music Academy of the West, the Aspen Music Festival, the Beethoven Institute, as well as the Schleswig-Holstein Festival in Luebeck, Germany. Her upcoming schedule includes performances in New York City and Montana as part of Young Artists Recital Series organized by Partners-In-Performances, an organization aimed to stimulate interests in recitals and chamber music.
Born to a musical family, Ms. Jiayi Shi started to play the piano at age 4. At age 7, she was accepted in the prestigious pre-college division of Shanghai Conservatory of Music. With the support of the Fund for Chinese Pianists in Texas, Ms. Shi received a Bachelor's degree in Piano at the University of Texas and continued her education at the Eastman School of Music with the renowned pianist Barry Snyder. She graduated from Eastman in 2002 with both a Master's degree and the Performance Certificate in Piano and in 2010 completed a Doctor of Musical Arts degree in collaborative piano at the Manhattan School of Music.
Become a member of Friends of the Conservatory. Join now at giving.biola.edu/music.
Questions?
Contact Music Reception at:
(562) 903-4892
music@biola.edu
Part of the collection Music at Noon Series