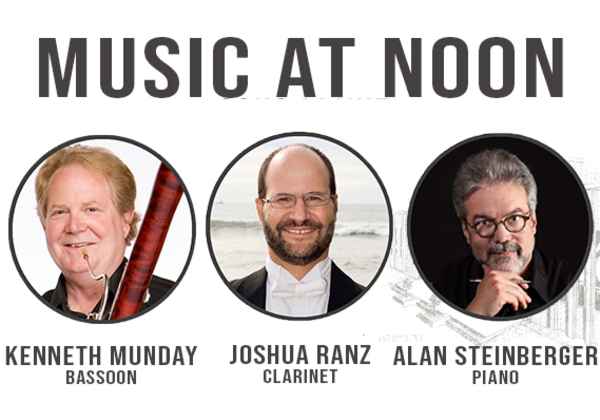 Joshua Ranz, clarinet; Kenneth Munday, bassoon; Alan Steinberger, piano
Music at Noon
Wednesday, November 13, 2019
12:30 p.m.

Crowell Music Bldg. - Lansing Recital Hall

Open to: Alumni, Faculty, General Public, Parents, Staff, Students
Cost and Admission
This event is free to attend.
Joshua Ranz has been a member the Los Angeles Chamber Orchestra since 1999, and the Pacific Symphony since 1997. He also performs with the Pasadena and San Diego Symphonies and the Los Angeles Opera. Previously, he was a member of the Honolulu and San Jose Symphonies. Josh spends his summers in Western New York, performing as a member of the Chautauqua Symphony Orchestra. He also performs with the Mainly Mozart festival in San Diego. He has recorded with the Pacific Symphony, as well as numerous motion picture soundtracks.
Josh regularly performs chamber music programs throughout Los Angeles, including Pomona College, LACNLA and the "Musicale" programs with the Los Angeles Chamber Orchestra. He performs throughout Orange County with The Pacific Symphony Woodwind Quintet. He has performed recitals at the International Clarinet Association Convention in Columbus, Ohio, and with the New York Woodwind Quintet at the Norfolk Chamber Music Festival.
Josh studied at the Yale School of Music with David Shifrin and received his bachelor's degree at Harvard College, majoring in music composition and analysis. Josh was a faculty member of the Aspen Music School and Festival and attended the Tanglewood Music Festival.
For more information, please see the following link: Los Angeles Chamber Orchestra
Very active in chamber music circles, Kenneth Munday has performed at the Marlboro, Santa Fe and Chamber Music Northwest music festivals. He was a member of Musical Offering, a Baroque ensemble formed by principal players of LACO. The group recorded three albums for Nonesuch Records and toured the US, Canada and Puerto Rico, performing at the Festival Casals. As principal bassoon, Munday performed and recorded several albums at the Oregon Bach Festival including Kristof Pendereki's Credo, which won a Grammy award.
Munday performs with Musica Angelica on period instruments of the Baroque and Classical eras. In March 2016, he appears with San Francisco's Philharmonia Baroque.
A veteran session musician in Los Angeles, Munday has played on television and film scores for many years. He can be heard on the John Williams soundtrack of Star Wars VII. Munday has recorded Luciano Berio's Sequenza XII for solo bassoon for Naxos. The work demands many special techniques, including that the performer circular-breathe for 19 minutes. Impressively, Munday recorded it in two complete takes.
He is married to Jennifer Munday, a member of LACO's first violin section. Their daughter, Marika, attends USC.
Alan Steinberger is a first-call pianist and composer in the film, television and recording industries. He was credited and featured throughout the Academy Award-winning documentary March of the Penguins as well as the HBO films Bernard and Doris and Mrs. Harris. He has orchestrated and performed on the scores for the hit TV show King of the Hill, the cult sensation Firefly and the ground-breaking video game Uncharted: Drake's Fortune. He frequently composes music for commercials, including a multiple awarding-winning spot for Honda (people who look like their cars), earned a gold record for Winterlude, an album of contemplative Christmas instrumentals, and his cartoon likeness has been used as a character on the TV show Sylvester and Tweety Mysteries. He currently resides as the principal pianist of the Pasadena Symphony and POPS orchestra and the Hollywood Bowl orchestra.
Become a member of Friends of the Conservatory. Join now at giving.biola.edu/music.
Questions?
Contact Music Reception at:
(562) 903-4892
music@biola.edu
More from Music at Noon Series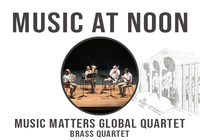 Music at Noon
Wednesday, February 19, 2020
12:30 p.m.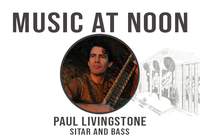 Music at Noon
Wednesday, February 26, 2020
12:30 p.m.